This is the time when I ask the Wesleyan community to respond generously to requests to support the Middlesex United Way. Although many of us have various organizations to which we contribute, please consider that our gifts to United Way raise Wesleyan's collective voice in support of programs that help our neighbors in need. Wesleyan faculty and staff have long been known as contributors to this community endeavor – a tradition meriting renewed effort. We are really striving to increase participation this year to show our commitment to the region in which we work. Those of you who are out of town and want to support these efforts can look here.
When you give to Middlesex United Way, your dollars stay close to the campus community. United Way's local volunteers distribute your dollars to help neighbors in need – neighbors like the scores who recently have found homes thanks to the Middlesex County Coalition on Housing and Homelessness Prevention Fund. Our dollars have helped the Women & Families Center's Sexual Assault Crisis Services support more than 800 people, and have contributed to school readiness programs for young children in all 15 towns in Middlesex County. In addition to providing vital assistance locally, Middlesex United Way is an effective catalyst for change, bringing many organizations together to improve all our lives.
As co-chair Gloster Aaron has noted, we are making it easier to donate this year with an on-line donation. Employees can use the "United Way Donor Form" in their Employee Portfolio.  Due date for donations is next Friday, Nov. 6.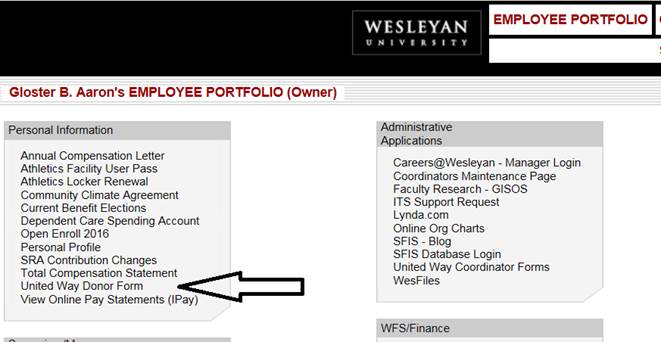 Further instructions about how to donate via this form can be found here.  More information about the Middlesex United Way can be found here.
Changing lives in this way depends upon our support, and your gift matters. Every gift, at any level, makes a difference. If you are continuing your support, thank you. If you are considering a gift for the first time, I hope you will respond with a generous heart.