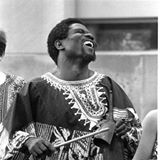 What can one say about a professor and artist who has had a powerful impact on the lives of Wesleyan students for 46 years? Someone who has opened cultures, traditions, and possibilities for improvisational creativity with energy, intelligence and care while maintaining his own artistic practice at the highest level? How can we express our gratitude?
Abraham Adzenyah is retiring in December after 46 years at Wesleyan! The Music Department, the CFA and University Relations have come together with a group of alumni to host a series of events in his honor at HOMECOMING this Saturday, November 7. This includes a panel in the CFA Hall at 3 p.m., a West African Drumming and Dance Workshop at 7:30 p.m. and a Share/Performance at 9 p.m. both in Crowell Concert Hall.  For more information look here. Please join us to reflect, drum, dance and celebrate all that Abraham has given hundreds of Wesleyan students over so many years!
A group of Abraham's former students, friends, and Wesleyan colleagues have put together a campaign to raise funds to create a scholarship fund in Abraham's name.  They have a Facebook page (please like it!) with amazing photos and reflections here.  To honor Abraham and his many contributions, they are working to fund an endowed scholarship in his name. The Abraham Adzenyah Endowed Wesleyan Scholarship will provide financial aid to music majors, in perpetuity.
The steering committee writes:
Abraham's drumming and dance classes and concerts reflect just the type of unique, surprising, and delightful experiences that many students have at our university. He offers his authentic expertise in a field of art and culture with which many of us were completely unfamiliar prior to our arrival in Middletown.

In celebration of Abraham and in recognition of Wesleyan's commitment to thoughts, ideas, and arts of interest—wherever they originate—we've set out to raise $300,000. That's huge!—but we are already $77,000 of the way there. Will you help us honor Wesleyan's diversity, commitment to exposing students to a wide variety of cultures, and providing access to artists from all over the world?
A gift of any size will be a great help!
Please click here to make a donation: Wesleyan University – Give Now
Under Additional Information, select "Adzenyah Scholarship" as your Giving Priority
Consider a planned gift to support the Adzenyah Scholarship:
Please contact Mark Davis '96, director of gift planning, for more information at 860/685-3660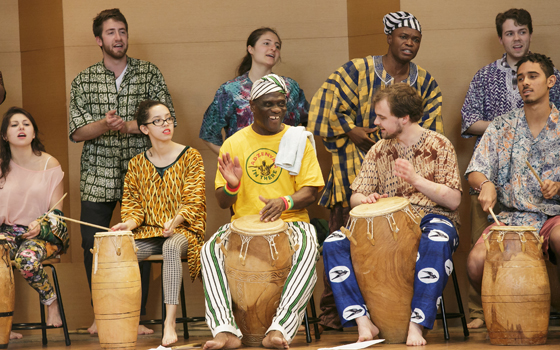 I hope to see many of you at the festivities this weekend. Abraham Adzenyah – THIS IS WHY.