This past weekend the Lt. Governor Nancy Wyman presented an award from the Muslim Coalition of Connecticut to the Center for the Arts for its great program, Muslim Women's Voices. The proclamation, in part, states: "The Wesleyan community and the entire State of Connecticut have benefited immensely from the leadership and integrity Wesleyan University Center for the Arts has exemplified through its work both on and off campus."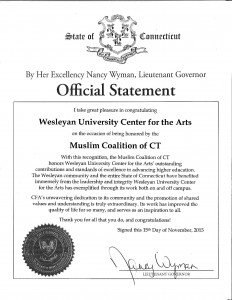 Associate Provost Mark Hovey, along with CFA Director Pam Tatge and faculty, staff and students from the advisory committee and our Muslim Students Association joined more than 350 guests at the awards dinner.
Congratulations to everyone who contributed to this program!