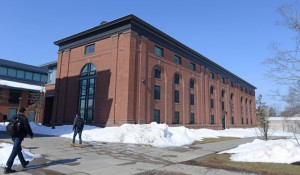 Earlier this week I announced a $20 million gift from outgoing Board of Trustees Chair Joshua '73, P'06, P'09 and Dr. Amy Boger P'06, P'09 to the university's THIS IS WHY fundraising campaign. In recognition of the Boger family's generosity and leadership, the building located at 41 Wyllys Avenue on the university's College Row will be named Boger Hall. Here's the story from News@Wesleyan.
The Bogers are the largest donors to the campaign. Their gifts include $11 million to establish the Joshua '73 and Amy Boger Endowed Wesleyan Scholarship Program, which has already benefited more than a dozen Wesleyan students and will provide access to Wesleyan to many more in the coming years; $3 million to endow the Joshua Boger University Professor of the Sciences and Mathematics, currently held by Professor of Chemistry David L. Beveridge; and $2 million for the Joshua Boger '73, P'06, P'09 Endowed Fund for Student Research, which provided lead funding for 50 faculty-mentored student research fellowships in 2015.

"It is truly gratifying to honor a family that exemplifies Wesleyan's ideal of passionate, generous, forward-thinking individuals who believe in the importance of a pragmatic liberal arts education," Roth said. "The Boger family's commitment to Wesleyan will provide students now and in the future with an opportunity to face 21st century challenges head-on to make positive and profound changes in the world."

Speaking about the value of liberal education, Boger said, "In an age of instant information access, the core skills for the 21st century are information curation, critical analysis, and cross-discipline integration. Increasingly, it is apparent that needed progress in complex fields like healthcare innovation requires balance and judgment across technical, social and political areas. Wesleyan excels at offering precisely this kind of broad and deep engagement in our most important human challenges, and it gives Amy and me great pleasure to support this important mission."

Joshua Boger has had an extraordinary career as a scientist, entrepreneur, and philanthropist. A philosophy and chemistry major at Wesleyan, he founded Vertex Pharmaceuticals in 1989 to, in his own words, "transform the way serious diseases are treated." Vertex is a member of the S&P 500 and was named by Forbes magazine recently as the No. 15 most innovative company in the world. See how Wesleyan set Boger on his professional path in the 2011 Wesleyan mini-documentary, "Cure Entrepreneur."

The building at 41 Wyllys Avenue is an iconic part of College Row at the heart of the Wesleyan campus. Built in 1934 to house the university's squash courts, it was completely renovated in 2012 (see photos here) and now is home to the university's state-of-the-art Career Center, College of Letters, and Paoletti Art History Wing. This award-winning, LEED "Platinum" certified building will be formally dedicated as Boger Hall in May 2016, as part of the university's Reunion & Commencement celebration. The ceremony will also mark Joshua Boger's retirement from the Board of Trustees, on which he has served as a member since 1999 and as chair since 2009.
One of the great things about being president of Wesleyan is acknowledging the support of people like Joshua and Amy. Their affection, loyalty and commitment to our university and our community is inspiring!