Pam Tatge, Wesleyan's intrepid director of the Center for the Arts, recently sent out a note about Visiting Instructor Eiko Otake's extraordinary project "Platform," being seen this semester in New York. This work grows out of research and collaboration Eiko did for her piece "A Body in Places" at Wesleyan in the fall of 2015.
Eiko has a great team of Weconnected folks, as she told me in an email: "My current team includes dramaturge Mark McCoughan '10, videographer Alexis Moh '15, visual artist Megumu Tagami '10, Lydia Bell (07, programing Director of Danspace Project, and my own sons, Yuta '07 and Shin '10.  In addition, I work closely with my life long advisor/producer/supporter Sam Miller '75, and Paul Vidich '77."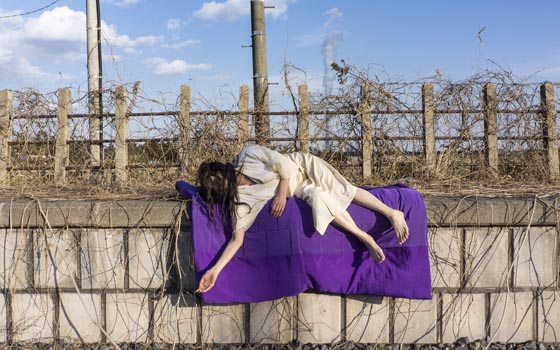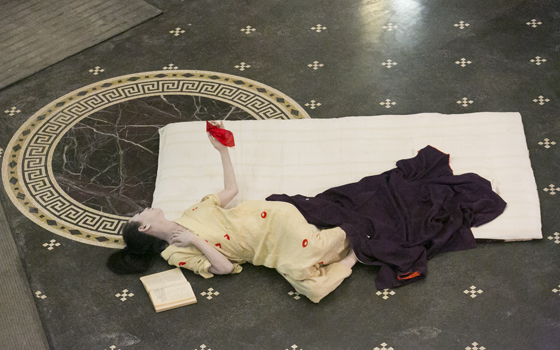 (Photos by William Johnston, professor of history, professor of East Asian Studies, professor of science in society, professor in the environmental studies program)
Click here for an at-a-glance calendar.
We are hoping Wesleyan faculty, staff, students, and alumni who are in New York will attend the events below on Friday, March 11. The free talks include fellow Wesleyan faculty members William Johnston and Katja Kolcio. Please note that tickets are required if you'd like to stay and see the evening performance at 9 p.m.
You can read coverage of this project in recent articles from The New York Times here and here.
After Fukushima: A 24-hour Event
March 11 – March 12
March 11 marks the fifth anniversary of the earthquake, tsunami, and nuclear disaster in Fukushima. A photo collaboration between Eiko and photographer/historian William Johnston will be on display in the St. Mark's Church sanctuary for 24 hours. Singers and poets will mark each hour with a song and poem. The day begins with:
Conversation Without Walls: Bearing Witness:
4 p.m. to 5 p.m.
Marilyn Ivy (Columbia University Associate Professor of Anthropology) and William Johnston (Wesleyan University Professor of History, East Asian Studies, Environmental Studies, and Science in Society)
Respondents: Gabriel Florenz (Director, Pioneer Works), Harry Philbrick (former Director, Pennsylvania Academy of the Fine Arts), and Julie Malnig (New York University Associate Professor and Chair of the Gallatin Interdisciplinary Arts Program)
5 p.m. to 6 p.m.
Karen Shimakawa (New York University Associate Professor and Chair of Performance Studies of the Tisch School of the Arts) and Ana Janevski (The Museum of Modern Art Associate Curator of Media and Performance Art)
Respondents: dance journalist Debra Levine and choreographer luciana achugar
6 p.m. to 7 p.m.
Yoshiko Chuma (Artistic Director and Choreographer of The School of Hard Knocks and Daghdha Dance Company) and Katja Kolcio (Wesleyan University Associate Professor of Dance and Environmental Studies)
Respondents: choreographer Koosil-ja and dancer, choreographer, teacher, writer, and editor Wendy Perron
7 p.m. to 8 p.m.
Q&A with all participants
Admission is free and you are encouraged to RSVP here.
Solo Performance by Eiko Otake
9 p.m.
$20 general public
All events are at Danspace Project at St. Mark's Church, 131 East 10th Street, New York, NY 10003