After some weeks away from campus, it feels great to be back in Middletown. We have had an enjoyable and productive summer, and now it's time to get ready for our new students and those returning to Wesleyan. The ever active Physical Plant staff are busily getting buildings ready for faculty and students, while many on the faculty are focused on finishing the research mapped out for the summer.
It has been a busy time for the construction crews preparing the new Allbritton Center for the Study of Public Life. The old Scott Labs (then Davenport) building has been cleaned up on the outside and had a real makeover internally. The Shapiro Creative Writing Center and the Quantitative Analysis Center will both have great spaces in the new facility.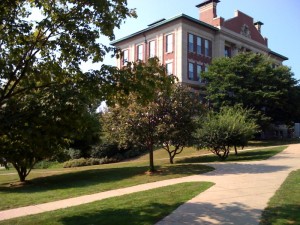 Speaking of creative writing, I just learned that our new Assistant Professor of English, Deb Olin Unferth, won the Cabell First Novelist Award for Vacation, published by McSweeney's. What a great way to start off at Wes!
[tags]back to school, Allbritton Center for Public Life, Shapiro Creative Writing Center, Quantitative Analysis Center, Deb Olin Unferth, Cabell First Novelist Award[/tags]