For the last week I've been in Japan and Korea with Graeme Freeman from the Freeman Foundation and Terri Overton from Admissions interviewing students for our Freeman Scholarship program. The program has now been going for 15 years, and it has brought to Wesleyan many exceptionally talented young people from 11 different Asian countries. Year in, year out they arrive on campus with a thirst for learning, faith in a liberal arts education, and an extraordinary capacity for focused, challenging work.
This was my first trip to Tokyo and Seoul, and it also included a number of alumni gatherings. I had the pleasure of meeting Katsuhiko Hiyama '60 (Kay) who is hoping to come back for his 50th reunion this year. Kay described to me how his Wesleyan education has been a lifelong resource for him as he worked in four different continents, and he also shared with me his love of jazz. I also met some recent alums, including Joyce Haejung Park '04, who majored in math and is now working for Chartis in Seoul. Although Sam Paik '90 and Professor Jung-Ho Kim '85 are frequent visitors to campus, it was great to see them on their home turf. And I met with alumni working in media, finance, education and public service. All described to me how they continue to draw on their Wes education.
Interviewing Freeman finalists is a great cure for cynicism. These high school seniors display a love of learning and a devotion to education that is truly inspiring. Although in many cases they have already registered significant success in school (I've never met as many perfect 800 scorers in a short period of time), the dominant theme was the desire to explore new areas of inquiry and to encounter a variety of cultural experiences. They were interested in CSS, COL and the new College of the Environment, in addition to our offerings in music, science, philosophy, and, yes, even East Asian Studies. One young woman was led to her interest in the liberal arts through reading Aristotle on her own; another student was passionate about break dancing and religion. All in all they are an amazing group!
In my first year as President I set a goal of doubling the number of international students at Wesleyan. The financial crisis has slowed this down, but after a trip like this one, I am more convinced than ever that bringing students from outside the United States is a great benefit to them and to the entire Wes community.
Here are a couple of pictures of my recent alumni guides, who also helped out with interviews.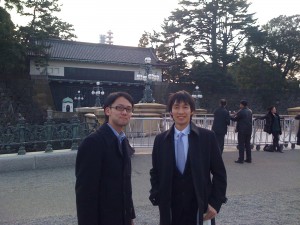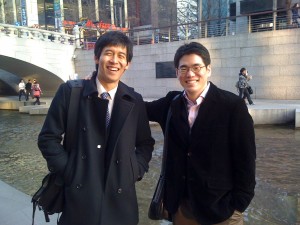 [tags]Freeman Scholarship Program, Katsuhiko Hiyama, alumni[/tags]