The extended Wes family has gathered together this weekend, celebrating scholarship, athletics, teaching and all things Red and Black. The seminars were often full and always lively, and they brought together the great energy that characterizes the classes here. I ran into Orin Snyder  '83, who had just come from a packed discussion, led by the Wesleyan Lawyers Association, of the changing legal network for social media. And Alberto Ibarguen '66 P'97 HON'11 was equally enthused about his session celebrating 50 years of the Peace Corps. The history of the Peace Corps at Wesleyan spills naturally into our new PATRICELLI CENTER FOR SOCIAL ENTREPRENEURSHIP. We cut the ribbon on the new Center on Saturday morning. Later in the day on Saturday I ran into some starry-eyed parents who were quite in awe of the presentation by Wes film faculty Jeanine Basinger, Scott Higgins and Steve Collins on "what makes movies great"! Jeanine was quoted extensively in this morning's New York Times on Leonardo diCaprio (and a few days ago could be found in the Wall Street Journal). Our film folks are everywhere, but there's nothing like seeing them on the home turf!
This weekend saw a grand celebration of the extraordinary work in experimental music by Alvin Lucier. Lucierfest brought out artists, musicians and writers who have been inspired by this pioneering composer and teacher. And speaking of things musical, I was delighted to catch Randy Newman's benefit performance in the chapel on Friday night. We veered from ironic complicity to emotional commitment as he sampled his catalogue.
The efforts of our student athletes were so impressive this weekend, even if they left us saying, "wait 'til next year!" The cross country teams had very strong showings: the women were 6th of 40 teams  and the men were 9th of 44 teams. The women's soccer team played well but fell to Amherst in the semi-finals of the NESCAC tournament. Our great goalie Jess Tollman '15 kept the Lord Jeffs at bay for the first half, a fitting end to her strong first year. Our star forward Laura Kurash '13 was named District Academic All American. This was our first time advancing this far in the tournament, and we are very proud of the women who battled all semester.
And speaking of a battle…our football team put up a mighty effort against the Purple Ephs in front of an enthusiastic homecoming crowd. We came very close to pulling off a great upset against Williams, thanks to a strong team effort. Matt Coyne passed for 192 yards, and star freshman running back LaDarius Drew '15 was a workhorse despite the cast on his injured hand. Seniors Brett Bandazian and Jordan Greene had 10 tackles apiece, and our punter Jesse Warren '15 had a world-class game. Coach Mike Whalen '83 and the entire team are working together to build a great program. We are very proud of them!
All our athletes today are inspired by the great achievements of Wes students in the past. On Saturday night we inducted an all-star group into the Wesleyan Athletics Hall of Fame. When Moira James '78, along with Dennis Robinson '79 and the Athletics Advisory Council, came up with the idea of the hall of fame, I knew it would be a way of recognizing and reconnecting with our alumni greats. They also probably figured it would inspire contemporary success. And they were right!
I wish I were able to attend all the events, and it's been a joy to welcome so many back to campus after a challenging week. Go Wes!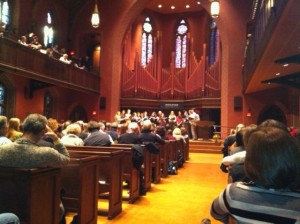 UPDATE: What a great thing to hear the many a cappella groups at the First Annual Stone A Capella Concert, celebrating Chip Stone '49, p'79, P'82, GP '11, GP '15. A highlight for us was Chip and daughter Sarah Stone Maynard '79 P '11 singing a duet about the dangers of drugs to start things off.