Thanks to Mark Masselli (Hon '09, P '15, P'16), Community Health Center and a group of dedicated sponsors (Wesleyan included), there is going to be a great new tradition starting in Middletown on December 31st. Midnight on Main promises to be a great family-friendly event starting at 3 PM and ending with tolling of the bells as the year turns. There are more than a 100 events up and down Main Street. A fireworks extravaganza is planned for 6 PM.
For more information about Midnight on Main, check out this website.
UPDATE: NEW YEAR'S DAY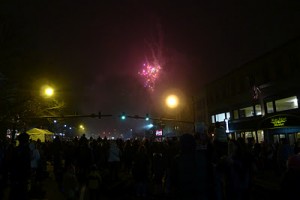 (photo from middletowneye)
It was great to see the happy crowds wandering around Main Street around the time of the stupendous fireworks display. All the restaurants were filling up, as were the many shows that were attracting folks from all over Central Connecticut. As I walked back up Washington Street to campus, I saw smiling groups emerging from Kidcity Children's Museum. I was reminded of the museum's founding director Jennifer Alexander's (' 88, Hon '09, P '15, P'16) important work here in Middletown for over 20 years. It was wonderful to see Mark's and Jen's vision for Midnight on Main turn into such a successful even last night. Happy New Year!!