Rob Rosenthal, Andrus Professor of Sociology and Provost, is a reluctant administrator. That's often the best kind. When I asked him to help out by joining the university's leadership group a couple of years ago, he was hesitant, in part because he was well into a book project. He and his son, Sam Rosenthal, were working with Pete Seeger to bring out a collection of the songwriter/activist's papers. No problem, I bluffed, plenty of people bring out books while holding high level administrative jobs.
Well, the Rosenthals have done it! Working closely with the Seegers, they have just brought out Pete Seeger: In His Own Words.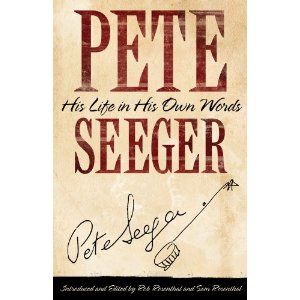 Pete Seeger has been passionately involved — with words, music, and activism — in most of the progressive political movements of the last half century. Rob and Sam are musicians themselves, and Rob has devoted much of his scholarly career to understanding the intersections of music and politics, performance and social change. We're all looking forward to the Shasha Seminar this year on music and public life, which will surely tap into Wesleyan's deep, vibrant musical culture.
Congratulations to the Seegers and Rosenthals on the new book! Keep the music (and words) flowing!