Update (10/30): 9:15 am

We didn't lose power last night, and this morning we can see that cleanup can begin in earnest. Our hearts go out to those still without power or suffering from flood damage.
Here are pics I took before and after the storm in the early morning.
Before: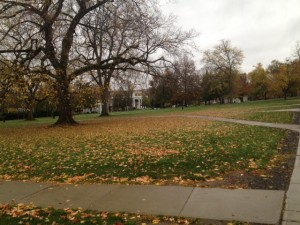 After: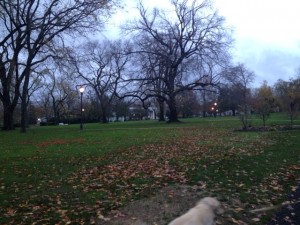 Thanks to all the Wesleyan and Bon Appetit staff who kept us safe and fed, and thanks to the students for hanging in there! We are grateful to the Stonehedge workers who started cleaning up the grounds early this morning. We hope to have the Freeman Athletic Center and the Library open later today. Check the homepage for more information.
Update (10/29) 6:30 pm
Dinner time, and Usdan was feeding many a hungry student. The winds have picked up considerably, and so people are staying put for the night. The President's House, I've learned, can really whistle as the winds blow through. But the campus is quiet. A good time to catch up on reading. Here's the announcement that went out a short time ago. Next announcement in the morning.
Storm conditions are intensifying and are expected to intensify further. Meal service at Usdan ends at 7 pm this evening, after which students are advised to remain in their residences. Please note that the mayor of Middletown has established a curfew for the city starting at 8 pm this evening, and the "Ride" will not be running tonight.
We have no other news to report at this time, and we will send another update by mid-morning, Tuesday. Storm updates are also available at http://www.wesleyan.edu/storm or by calling the Wesleyan Info Line at 860/685-5678.
Update (10/29) 1:10 pm
Kari, Sophie and I just returned from the Usdan University Center where we had lunch with students who seemed chipper and prepared for what the storm may bring. We talked with dozens of folks who were eager to be on the other side of this storm, but also ready to hunker down tonight when we expect winds to be at their strongest. I let them know that we on the staff are here to help deal with whatever the weather brings.
Here is the announcement we sent out a short time ago:
Connecticut is predicted to experience the worst effects of Hurricane Sandy beginning later this afternoon and extending into tomorrow. Students should remain inside as much as possible after obtaining meals. Please remember to stay away from downed trees and power lines. Safety tips from Residential Life are available here:
http://www.wesleyan.edu/reslife/policies/severe%20weather_power%20outage.html
Students should remain in their residences unless otherwise notified. If power is lost, students should notify public safety. If power is lost for an extended period, we have a plan to restore power to the campus core, though that may take several hours. In preparation for possible loss of power, please keep cell phones, laptops and other devices charged.
The Usdan Center is open until 7 pm tonight and is providing meals. We expect it to be open tomorrow from 9 am to 7 pm. WesShop will be open from noon to 5 pm today. Libraries and other offices, including Freeman Athletic Center, are closed today and tomorrow.
We will send updated information by 6 pm. Important phone numbers to keep in mind are:
Physical Plant- 860 685-3400 (for problems with your house)
Public Safety 860 685-2345 (for non-emergencies)
Public Safety- 860 685-3333 (for emergencies)
For storm updates from Wesleyan: 860-685-5678
Middletown Police Department, Fire Department, or medical emergencies: 911
Update (10/28):
As many of you know, I really don't like to cancel classes, and we have been making preparations to continue our operations tomorrow. But the latest forecasts and information from the state have led us to conclude that we should suspend normal operations. We are cancelling classes for Monday, October 29 and Tuesday, October 30.  We will provide updates for plans for Wednesday by early afternoon on Tuesday.
Faculty and those staff designated as "non-essential" should not come to work tomorrow or Tuesday. Students should stay in their residence halls as much as possible, and should certainly stay away from trees. Meals will be available in Usdan, and we will be sending scheduling information to students soon.
If you are on campus and need help with storm related matters, please call Public Safety at 860-685-2345. For emergencies, call 860-685-3333.
We will get through this with cooperation and prudence.
On Friday the following email was sent out to the campus community:
Wesleyan staff members are preparing for the arrival of Hurricane Sandy on Monday evening or Tuesday. The storm may make landfall somewhere in the New Jersey, New York, or the New England area, and it has the potential to bring strong winds, heavy rain, and flooding to Connecticut.

Wesleyan is preparing to respond to any problems resulting from the storm, including power outages. If the storm disrupts normal functioning of the University, we will alert the community via the Wesleyan homepage and e-mail. We will use our ConnectEd system for any emergency communication.
Faculty, students and staff are preparing emergency kits, and we have been meeting regularly to test our readiness for wind, rain and flooding. Last year we had our freak snowstorm, but who knows what the new normal will be? Whatever it is, we will do our best to keep our community safe and sound.