Over the last 10 days I've traveled to Houston, Dallas and Chicago, with teaching and storm preparation on campus in between trips. The travels are opportunities to discuss with parents and alumni what's been happening on campus, and to continue raising money for our highest priority, financial aid. It's been good to meet members of the extended Wes family while also reconnecting with old friends. Their generosity and affection for Wesleyan is inspiring.
Among the most inspirational alumni and dearest friends to Wesleyan was John Woodhouse, who passed away earlier this week. John was a member of the class of '53, a parent '79, and a trustee emeritus of Wesleyan.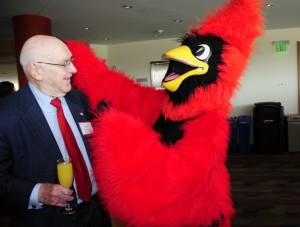 John served as a member of the Board of Trustees from 1976 through 1979 and again from 1980 through 1992. After retiring from the Board, John chaired the Wesleyan Campaign from 1997 through 2005, meeting with countless alumni all over the world to seek support for Wesleyan. Following the Wesleyan Campaign, John was an active member of the Development Committee (2005-2008) and, most recently, the current Campaign Council (2008-present). In recognition of his loyal service to Wesleyan, John was honored with the Baldwin Medal in 2005. He received the Distinguished Alumnus Award in 1993 during his 40th Reunion and he was awarded an Honorary Doctorate of Humane Letters from Wesleyan in 1997.  He will be deeply missed by his family and friends, and all of us fortunate enough to have worked with him.
Over the last few days I've been hearing from Wesleyan friends who are still dealing with the aftermath of super storm Sandy. While things on campus have returned to normal, we realize that for many the hardships caused by the storm are very far from over.  Our hearts go out to all those who suffered devastating losses, and we look with admiration on the work being done to restore normalcy in these challenging times.