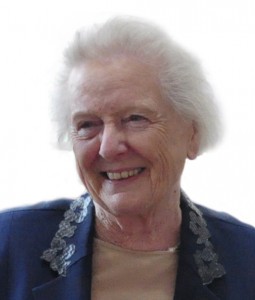 Kari and I were out of the country at a seminar when we heard that Doreen Freeman had passed away. I'd gotten to know Doreen and her husband Buck (who died in 2010) just after I'd been named president of Wesleyan but before we'd moved to Middletown from California. We had a long lunch at which Doreen made us feel like we would be truly at home at Wesleyan, and Buck reminded us of how important it would be to maintain the tradition of excellence the Freeman Foundation had established in recruiting extraordinarily talented students to Wesleyan. What a team! Wes had become Doreen's alma mater as well as Buck's (and Graeme's, their son), and we will never find truer friends.
Doreen was a person of enormous curiosity and care. She would participate in the interviews for Freeman Asian Scholars each year, and she brought grace, perspicacity and deep empathy to the process. She also had a delightful sense of humor, and along with Buck and Graeme, communicated a joyful, personal philanthropy that is very rare. I know that Freeman Scholars on campus and around the world felt that she cared about each and every person in the program. She delighted in hearing about their experiences as students, and about the ways their Wesleyan education informed their lives long after graduation.
Our hearts go out to Graeme, his sister Linda and their families. Doreen's memory will be a blessing for them and so many others around the world.
You can read more about Doreen Freeman here.