Today alumni, faculty and current students will be meeting to discuss the impact of coeducation on education at Wesleyan and across the country. Forty years ago Wes graduated its first class with a substantial number of women who began as frosh. We should also acknowledge the several women who had previously transferred to Wes, or who had registered here through exchange programs. Today Dr. Sheila Tobias, our first woman Provost, will help lead "Campus Transformation Through Coeducation," a daylong event including a panel discussion with female change agents from the 1970s and discussions with alumni and faculty about campus culture of the late 1960s and early 1970s. As I wrote in a blog post this summer, Wesleyan began an experiment with co-education in the late 19th century that lasted until 1912. At that time, alumni groups put pressure on the administration to return to the status quo embraced by the all-male schools with which the university compared itself. In reaction, a more adventurous group of alumni joined to help found Connecticut College as an institution for the education of women.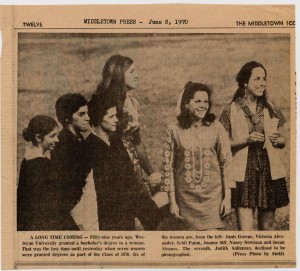 In 1968, at a time when many schools were considering co-education, Wesleyan began admitting women as transfer and exchange students and two years later admitted first-year female students for the first time since 1909. I began as a freshman in the fall of 1975, shortly after those students had graduated. By then, in just those few years, co-education had made great strides, so much so that I wasn't aware of how recently women had become part of campus culture. Looking back, many of my women friends were doubtless more aware than I of the barriers to inclusion that still existed for female students – and for students of color, and gay, lesbian and trans students. There was certainly an active feminist movement on campus, but (as I recall) the primary focus was on global issues of patriarchy with some activists taking on local issues of campus discrimination and sexual harassment.
Today's discussion will focus on the transformation of education through co-education across the country. Many of the sessions will be held in Beckham Hall.
The Navaratri Festival's celebration of Indian music and dance continues today. This is the 37th annual festival, and the concerts, lectures and dance are always at the highest level. Here's a taste from an earlier festival.
[youtube]http://www.youtube.com/watch?v=lwdDm3UO5WM[/youtube]