I write this from Dallas, where last night Kari, Ed Heffernan '84 and I discussed liberal education with about 30 Wesleyans. There were alumni from the last few years, from 60 years ago — and a high school senior who told us that Wes is his "dream school." Ed is here explaining why his big data company, Alliance Data Systems, looks for well-rounded students who can contribute to his enterprise over the long haul (they just hired a bunch of Wes grads).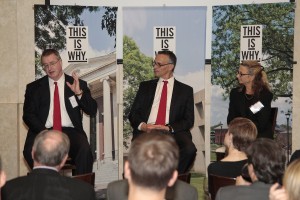 Earlier in the day I met with a group of high school teachers, administrators and guidance counselors in Dallas. They had great questions about the importance of a liberal education, and I was particularly impressed by the student journalists from the Greenhill School.
On Wednesday I was in Houston, where Michelle Lyn '84, P'12,'15, Rusty Hardin '64 and I spoke with a group of dedicated Wes folks about how liberal education has informed our lives. Michelle is a doctor working in pediatric medicine, married to a Wes alum, with two kids who have gone here. She talked about the importance of a broad education for the work she does and for her life in her community. Rusty gave a full-throated defense of a liberal education allowing one to experiment with tolerance and curiosity.
Tolerance and a delight in inquiry and ambiguity — that's a pretty good prescription for learning. I saw all that when Dan Routman P'16 gave me a tour of the Nasher Sculpture Collection. Here I joined a group of kids trying out the super cool chairs by designer Thomas Heatherwick.