Walking Mathilde early this morning, it really did feel like winter was on its way. You could see a dusting of snow on the ground yesterday, as the sun was coming up.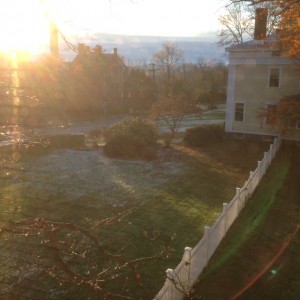 This means that winter sports are here! Today, Sat., Nov. 15  nine of the 11 Cardinal squads are in action, six of them at home.  Men's and women's squash both take on NESCAC rivals Tufts (1 p.m.) and Middlebury (4 p.m.) as part of the Wesleyan Round Robin while men's and women's swimming & diving face Brandeis (1 p.m.).  Also at home against a NESCAC foe, and Little Three rival to boot, is women's ice hockey vs. Williams (3 p.m.)  Men's basketball gets underway in the Herb Kenny Tip-Off Tournament with a first-ever meeting against Sarah Lawrence (3 p.m.).  On the road are women's basketball vs. Framingham St. in the ECSU Tip-Off Tournament (3 p.m.); men's ice hockey at Tufts (7 p.m.) in the NESCAC opener; and wrestling in the Roger Williams Invitational (10 a.m.). See Athletics page for more info.
And let's acknowledge a stand-out performance from the fall. Adam Cowie-Haskell '18 was awarded NESCAC Men's Soccer Rookie of the Year!
And just a reminder of winter from last year: