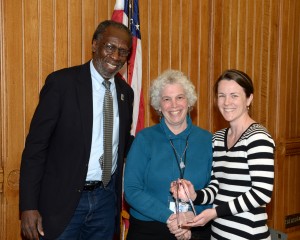 Mayor Dan Drew proclaimed Tuesday, April 28 Cathy Lechowicz Day in Middletown! Many Wesleyan students, staff and faculty make enormous contributions to Middletown, and so it's wonderful to see one of our colleagues recognized for her profound dedication to the community. Recently, the Connecticut Commission on Community Service and the Office of Higher Education announced the recipients of the 2015 Community Service Awards, and Cathy Lechowicz was singled out for her great work.
In a letter nominating Lechowicz for the honor, Rob Rosenthal, director of the Allbritton Center for the Study of Public Life, pointed to her work with the Center for Prison Education and the Green Street Teaching and Learning Center.
Under Cathy's direction, the Center for Prison Education "has flourished," he wrote.
"The Center now provides a program in the women's prison at York as well as the men's prison at Cheshire. In the 2013-14 school year, 54 students were taking classes. Over 20 professors (mainly Wesleyan, but others as well) have taught classes ranging from Molecular Biology to Political Philosophy, and always at the same level as they teach these classes to their undergraduate students. Additionally, over 130 Wesleyan undergraduates have served as teaching assistants, writing tutors, research interns, and workshop facilitators. Finally, the Center has been extremely successful securing funding."
Rob also wrote of Lechowicz' achievements at Green Street.
"In three years, Cathy has achieved incredible results: Wesleyan's financial contribution has been cut almost in half, total visitors have more than doubled, student involvement has more than doubled, and faculty involvement has tripled."