Spring of senior year … a time of celebration, some anxiety, and often great achievement. You can see our seniors performing in all sorts of things across campus over the next month.
I am fortunate to have several tennis players in my classes this year, and this weekend I got to watch some of them play in tough matches against NESCAC rivals. Sunday afternoon was Senior Day and the women were awesome! There was baseball and lacrosse to watch outside as well, and many Wesleyans were already taking advantage of the sun to watch their classmates on Andrus Field from those great seats on Foss Hill. 
Kari and I also had the pleasure of seeing the spring senior dance recital this weekend. The choreography was smart, creative and graceful — the dancers gave their all to an appreciative audience in the 92 Theater. Congratulations to Amaal Ladha, Keren Lebrón Ramos, Charissa Lee, and Halle Newman for their fine work. Today I strolled over to the Zilkha Gallery to catch the end of the first week of senior theses exhibitions. Riya Devi-Ashby, Alec Black, Peter Ketels Fulweiler, Skye Gao, Eden Lanois, and Bell Rush had impressive works displayed in a wide variety of genres.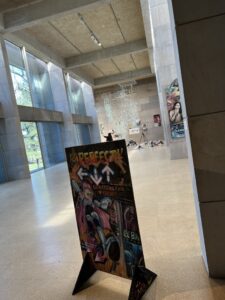 Week two of the art thesis shows begins Tuesday. Music recitals are also underway, and I hope to be able to listen to some of them this month. You can find out more about all the arts events here. 
Happy Spring!