Twenty-five years ago, Jennifer Alexander '88, Hon '09, P '15, '16 had the dream of starting a center in Middletown that would serve the city's children with programs that were fun and educational — and that would also delight their parents. Thus, Kidcity was born, and ever since it has been providing our fair city with a place of learning, exploration, and creative joy.  Kari and I took the grandchildren there in the spring and they were over the moon.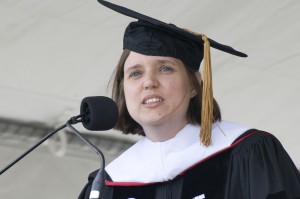 This photo is from the Commencement Ceremony of 2009 when we paid tribute to Jen's work with an honorary doctorate. In her remarks, she talked about reading "Charlotte's Web" with her Wes teacher Anne Greene.  She reflected on the fact that most graduates would leave the home we've had for four years, but that a few would stay — and make a big difference. 
Now, it was a Sunday morning, 21 years ago, when I was sitting where you are now, graduating with my class from Wesleyan. That very afternoon the exodus began. San Francisco, Seattle, Brooklyn. Like Charlotte's babies hatching from the egg sac, my friends floated away to wonderful futures. But I had fallen in love – with Middletown and with my partner – and so I stayed. At the time, it felt like a failure to dream big enough, but it later turned out that the simple act of staying brought more joy and accomplishment to my life than I could have imagined.

And so as you go in every direction this afternoon – with our blessing – I hope you find something in your life that makes you want to stay – in a place, in a discipline, in a friendship. The lesson I want you to take from "Charlotte's Web" is this: When some of the spiders decided to stay, it didn't just matter for Wilbur and it didn't just matter for the barnyard: it mattered for the spiders.
Everyone benefits when we take the time, energy and passion to contribute to Wesleyan's home city. Jen has done that in a spectacular way, and we celebrate her and her Kidcity colleagues today!