Perhaps it's the cool breezes in the morning and evening, or perhaps it's the student workers who have begun to settle in, but as I walk around campus I'm getting that "back to school" feeling that makes every fall so special. After bookending my summer with vacations in Norway and Maine, I am eager to see our Wes students and teachers trotting to classes, sharing a meal at Usdan, or simply taking in the late summer sunshine on Foss Hill. We are getting ready!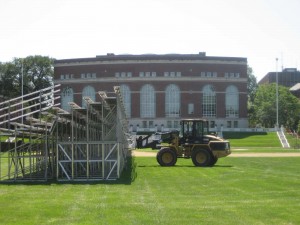 During the summer I've been able to work with colleagues on evaluating how we did last year, and to plan the next steps for enhancing the curriculum, supporting the faculty, and making our students' experience as meaningful as possible. Last year we gathered proposals that have helped us establish working priorities for improving class access, stimulating research, and enhancing the integration of the curriculum in the first two years. This summer we have built on those ideas and also prepared a new initiative to improve co-curricular offerings that link residential life with what students are learning in their classes.
In addition to the regular cycle of planning and goal development, this summer we have also created a task force to examine our policies and procedures in light of the incident with the police that occurred at the end of last semester on Fountain Ave. This committee of students, faculty and staff — led by Mike Whaley (VP for Student Affairs) — will report to me by the end of the summer. I will be meeting with Middletown police and civic leaders after I receive this report. My goal will be to ensure the safety and freedom of our community in a context that promotes a positive relationship with our town and region. Wesleyan has long been known for civic engagement, and that starts right here in Middletown.
Speaking of civic engagement, I hope that many of our students will be returning to campus with thoughts of the upcoming national election. I expect that there will be robust dialogue on the issues raised by various campaigns, and that our students will play a role in stimulating political participation. This is a time to make one's voice heard, and it is also a time to listen to different voices. Elections matter, and this election offers opportunities for education and action. The stakes are very high.
Since I'll be teaching a course on photography and philosophy this fall, I've also spent some of my summer getting ready for my first Wes seminar in 30 years. Whereas my film course last spring was a large lecture format, this will be a small class focused on contemporary scholarship. I have long been interested in how photography has changed the ways we make sense of the past, and the ways we represent the world. At CCA I taught this class for students in the visual arts, and I am excited to see how Wesleyan students respond to these issues in a liberal arts context. It won't be long now!
[tags] Back to school, Fountain Ave, Mike Whaley, student affairs, Middletown, presidential election, photography [/tags]