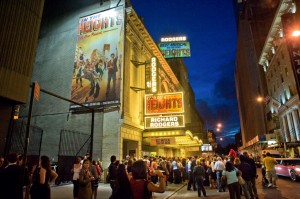 Friday was a great night for Wesleyan. Thanks to the generosity of an anonymous donor, we were able to raise 1.5 million dollars for scholarships and treat more than 1,300 students, alumni and friends to a high energy, moving night of musical theater. The donor gave us all the seats to the September 5 performance of In the Heights so that we could re-sell the tickets for scholarships. In the Heights, which won the Tony for Best Musical this year, was originally created at our own Patricelli '92 Theater. The creator and star, Lin-Manuel Miranda '02, was joined by director Tommy Kail '99 and co-orchestrator Bill Sherman '02 in creating a show that has expanded the genre of musical theater on Broadway. On Friday night they brought on the stage other Wesleyan alumni who helped them: Gilbert Parker '48, John Mailer '00 and Neil Stewart '00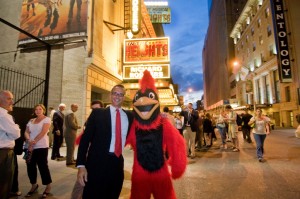 I can't tell you how joyful it was to see W46th Street filled with Wesleyan folks – and even the Cardinal! After the performance many danced to the stupendous Wes Band, Kinky Spigot and the Welders, who were rocking the Edison Ballroom. It was a high-energy celebration, and we funded 38 new scholarships.
As Kari and I took the train back on Saturday, I learned that our women's volleyball team had beaten Williams on Friday for the first time since 2001. GO WES!!
Technorati Tags: In the Heights, Patricelli '92 Theater, Lin-Manuel Miranda, Tommy Kail, Bill Sherman, Broadway, Gilbert Parker, John Mailer, Neil Stewart, Kinky Spigot and the Welders, women's volleyball