When we talk to alumni and prospective students, we often boast of how our grads play an enormous role in Hollywood, the news media, and in the world of entertainment generally. The new issue of Vanity Fair contains an article by Wes alum Sebastian Junger, and also cites Robert Allbritton as a leader in the "new establishment" because of his television, newspaper and web network. On p. 180 of the magazine, they've devoted a full page to "Wesleyan's Entertaining Class."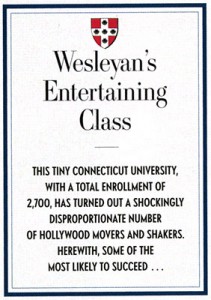 It's great to see the work of these wonderful alumni and our "tiny Connecticut University" recognized in this way. Of course, there are many more alums out there doing compelling work in this area. Jeffrey Richards, for example, has had an extraordinary career producing shows on Broadway, including August: Osage County, which won five Tony Awards this year, including Best Play. When I sent the Vanity Fair page to Jeanine Basinger, she came up with dozens of other names. Send them in! Wes alums are shaping our culture!!
—–
Among the myriad of sports contests, exhibitions and films on campus this weekend, I find especially noteworthy a concert in Memorial Chapel Sunday night at 7:00 pm. Charles Simic, former Poet Laureate of the United States, will join a great group of singers led by Professor of Music Neely Bruce. It should be a wonderful evening of poetry and song.
And the Wesleyan Bowl takes place on Sunday when the Jets face off against the Patriots. Both head coaches are Wes grads, so we can expect a thoughtful, strategic contest!
[tags] Vanity Fair, Sebastian Junger, Robert Allbritton, Jeffrey Richards, August: Osage County, Jeanine Basinger, Charles Simic, Neely Bruce [/tags]