Last night I went to sleep after knowing that all the networks had called the Western states for Barack Obama (Hon '08), ensuring his victory in the election. We'd spent much of the evening with colleagues and friends watching the electoral map turn blue, but it was late and Sophie had school in the morning….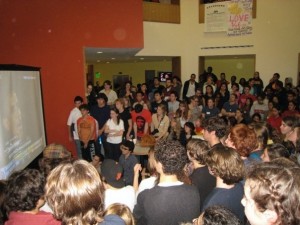 Sometime after midnight I awoke to hear more than the usual roar from outside our windows. I regretted that I hadn't gotten over to Usdan earlier in the evening, and I lay in bed thinking that this was a campus celebration I shouldn't miss. Throwing on some clothes and a Wes softball cap, I headed over to the University Center and saw folks dancing, cheering and chanting. Students who had worked hard on campaigns, and others who had just invested their hopes in Barack's message of change were out in force on the terrace of Usdan, sharing in this historic, glorious moment. We waved an American flag, and I marveled at the feelings of hope and enthusiasm that were rippling through this Wesleyan crowd.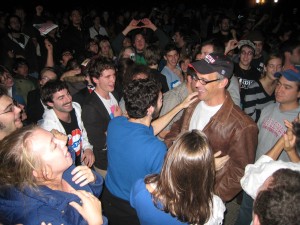 I have been proud of the efforts of our students, faculty and staff as they have registered voters, organized neighbors, and articulated fundamental issues. As our president-elect said last night, we have a long road ahead of us, but if we can work together with a spirit of optimism and purpose, we have an opportunity to improve our country. Let us seize that opportunity!
[tags] Election, Barack Obama, Usdan University Center, celebration, president-elect, opportunity [/tags]