This is a time of transition in the rhythm of the school year. Faculty and students know what to expect from their classes now, but the great challenge of execution to meet the highest standards is still ahead of us. After Thanksgiving there is a mad dash to the finish line of the semester, but now there is music to hear, lectures to learn from, theater or sports in which to participate, and, of course, there's mountains of work to do. Transitions.
Looking out on our beautiful campus, one can see those same transitions. Suddenly the temperature rises and it feels again like late summer. And then, like yesterday, the wind kicks up, the leaves swirl, and the sky reminds you that winter is coming. This morning, as I write this, the temperature hovers just above freezing, but the bright sunshine still works magic with the leaves, the increasingly bare trees, and the stately buildings of College Row. Tonight we may see our first flurries. Transitions.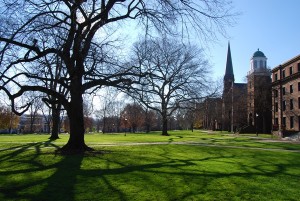 Even within what our students call the Wesleyan bubble, the campus community watches the world's economic malaise with great trepidation. In the administration, we are adjusting to these turbulent times by trimming our expenses, making a case for the strategic value of our programs, and by planning for reduced revenue over the next few years. But we are also protecting the academic core of our university, and continuing to recruit an extraordinary faculty and student body. We work for the best even as we plan to deal with a worsening economic context. Transitions.
And of course we hope for change. Whatever our political affiliation, we hope that a new leadership team at the national level will make a positive difference. We desperately need another model for economic growth and social cohesion. Transition, we trust.
[tags] Transition, Thanksgiving, College Row, economy, change, politics [/tags]