I write this post from Los Angeles, where I have been visiting with alumni and other members of the Wesleyan family. When I'm on the road, I often listen online to WESU, our wonderfully creative and original radio station. Not only does WESU bring us international, national and local news from perspectives we otherwise might not hear, they offer genuine community-based radio. I am grateful to station manager Benjamin Michael and the volunteers who keep WESU a vital source for radio that makes a difference in Central Connecticut.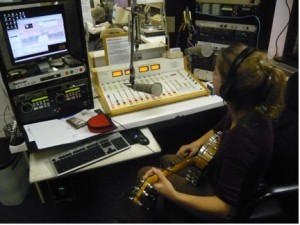 Like all community-based radio, WESU depends on our support. Through December 14 the station is holding a pledge drive. To show your support for WESU, donate online at www.WESUFM.org or call 860-685-7700 during the drive and make a pledge. Premiums will be offered for donations of $20 and above. I just called in my pledge. Won't you please help?
Last night I was asking for help when I met with more than 200 alumni in Los Angeles. I've been talking with writers and editors, teachers and musicians, producers, doctors and yoga instructors. It is a difficult time to ask for support. Many of the people I've met here are frightened by the financial turmoil and concerned for their livelihood. All agreed that we are in the midst of the most serious financial crisis in generations. Still, the loyal Wesleyan community members with whom I am meeting are eager to hear about what's happening on campus and willing to lend their financial and moral support. It is especially gratifying to see this expression of generosity during these challenging times.
After a quick stop to meet with our San Diego alumni group, I am heading back to Middletown. It's always great to be back in California, but I am eager to return to campus for this weekend's production of The Threepenny Opera and the other end of semester events.
I'll also be meeting with student, faculty and staff groups to discuss our budget proposals. We still have a couple of months before presenting our next draft budget to the Board in February, and I am eager to hear new ideas on how we can deal with the substantial fiscal challenges ahead of us. The proposals that I shared with the Wesleyan community represent one scenario to deal with these challenges. We will continue to develop these ideas with input and imagination. Input and imagination – just like WESU!
[tags] Los Angeles, WESU, Anna Gevalt, pledge drive, alumni, economy, San DIego, The Threepenny Opera, budget [/tags]