I had written most of this blog before last night's fire in the Hall Atwater Chemistry Building. Fortunately, there were no serious injuries, and thanks to the dedicated work of the Fire Department, Public Safety and our Physical Plant staff, we are preparing for the re-occupancy of most of the building very soon. We are currently rescheduling classrooms. For more information about Hall-Atwater, check:
http://www.wesleyan.edu/registrar/HallAtwater.html
WesFest is over now, and it was a great weekend for introducing prospective students to the campus, the academics, and the special culture of Wesleyan. I described this as best I could each morning as I welcomed parents and their (recently accepted to Wes) students gathered in Beckham Hall. Our visitors acquired a more meaningful feel for the university from panels, from classes, from the vibe on Foss Hill as the spring sun finally arrived, and from the great music emanating from WestCo or even from interlopers on Andrus Field.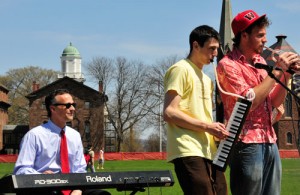 Almost every time I go around showing the campus to others, I myself discover something about our school that deepens my appreciation of what goes on here. This weekend there were plenty of athletic contests to look in on. I watched tennis, track and lacrosse, and in each case the students put forth impressive efforts. This was no surprise to me because I'd met the coaches and many of the players already.  On Saturday I also discovered the dynamic wonder that is Nietzsch Factor, Wesleyan's Ultimate Frisbee team. Peter Lubershane '10 had let me know that the team had organized a multi-school tournament at the Long Lane fields. Even from my brief visit to the sidelines, I could see that Wes is a real powerhouse in this sport. And have athletes ever had more fun? I often talk about the exuberance of our students, and it was in full flower Saturday in that competition.
On Friday I stopped in at the Science Center and saw some student work displayed in the lobby. The students were holding a poster session on their research projects — from computer science to astronomy, from physics and earth science to neuroscience and mathematics.  I was struck by how conceptually sophisticated and empirically grounded the work was. In short, there was plenty to cheer about.
Jan Naegele introduced me to a few of her students, including Keith Tan '09, who gave me a fine description of his work on cell death. It seems that cell death is something at times to be encouraged, and Keith's research explored some of the biochemistry that made the process possible.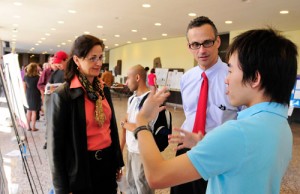 Hannah Sugarman '09 talked to me about her thesis research, through which she discovered more than a dozen new black holes in our "local universe." Who knew? Certainly not I. The collaborative nature of the work across the sciences was especially impressive.  As I was I checking out the astronomy project of Anna Williams '09, I noticed some printed papers appended to the poster board and asked about them. She cheerfully replied that she and some astronomy colleagues had already published some of the results in a scientific journal. It was the reprint that was hanging from the poster, and there are more publications to come!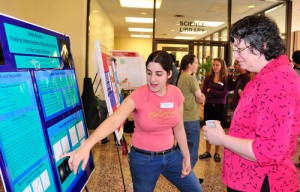 Scientific research at Wesleyan is one of the distinctive aspects of the university. Our students are not just spectators of science; they are active participants in it. Our small graduate programs allow our undergrads to establish working relationships with more experienced students while they continue to do research with faculty engaged with projects of international import. Wesleyan has shown for decades that a small liberal arts institution can contribute to advancing scientific fields. The poster session during WesFest underscored how vital that contribution continues to be.
All photos courtesy of Olivia Bartlett
[tags] Halls Atwater fire, Fire Department, Public Safety, Physical Plant, WesFest, Beckham Hall, Mad Wow Disease, Nietzsch Factor, Peter Lubershane, research, Jan Naegle, Keith Tan, Hannah Sugarman, Laurel Appel, Anna Williams, Olivia Bartlett[/tags]