Yesterday Sonia Manjon and I went to an exciting ground-breaking ceremony across the street from Wesleyan's Green Street Arts Center. We first gathered at the GSAC to hear remarks from community organizers, bankers, businessmen, housing activists, federal, state and local officials, and the head of our Chamber of Commerce. It was a very impressive coalition of groups that has worked together with Nehemiah Housing to plan for 16 new owner-occupied units in the North End of Middletown. Access to affordable housing, all the partners agree, will enable residents to become stakeholders in their neighborhood thereby promoting the momentum for further improvements. Wesleyan has become an important part of this dynamic with our project at Green Street, and working with neighborhood groups (some of which are led by alumni) has been a great learning experience for our students, staff and faculty. Here's a photograph of the groundbreaking from an article by recent honorary doctorate recipient Jennifer Alexander '88 from the Middletowneye blog.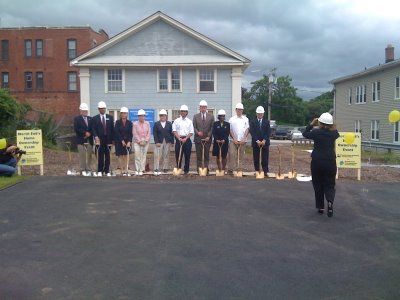 As we come to the end of our fiscal year this month, we are eagerly promoting the Wesleyan Fund as a way to enhance access to a great education. Be a stakeholder in our scholarship program by making a gift! We need the partnership of the extended Wesleyan family to keep our financial aid offerings strong. We  are making a big push to increase participation, so please make a contribution — no matter what size!
PLEASE GIVE BEFORE JUNE 30 TO BE ELIGIBLE FOR THE TRUSTEE MATCH. In another great example of partnership, the Board of Trustees will  match every gift up to $10,000 until June 30th.
Access to a Wesleyan education regardless of one's ability to pay is key to who we are. Please become a partner in this effort! Here's a link to make a donation on line.
THANK YOU!!!
[tags]ground-breaking ceremony, Sonia Manjon, Green Street Arts Center, Nehemiah Housing, construction, Jennifer Alexander, Wesleyan Fund, financial contribution, donation, Board of Trustees[/tags]