Today is the first day of Wesleyan's 2009-2010 fiscal year, a time for planning and also for a continuing review of how we performed in the year just coming to an end. That's characteristic of summer work here: evaluating past performance and working on plans for the future. Glancing out my window at a rain-soaked Andrus Field, I look forward to summers when we will have more students on campus. As soon as faculty return for the fall semester we will brief them on our plans for a pilot for a Wesleyan Summer Session in 2010. We expect to have classes across all three divisions of the university, giving students an opportunity to pursue studies they haven't been able to get to in the regular semester framework. I'll be writing more about the summer program as we continue our consultations with faculty.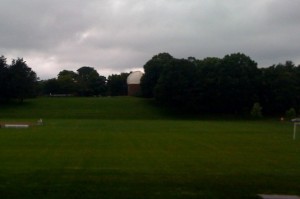 As is often the case, as we think about new programs we are also reminded of our past. In the final days of the fiscal year Wesleyan was the beneficiary of a significant bequest. John Pallein graduated with an English major in 1950, and spent the next two years in the US Army, serving in Japan and Korea. He began working as a technical writer, first for Pratt and Whitney and later for Beckman Instruments. I met John in California just before I moved back to Middletown, and it was clear that he felt a strong loyalty to alma mater. We talked about his work in the President's House for Victor Butterfield's family, and his enthusiasm about recent Wes students he had met. A gentle and amiable person, we spoke about the difficulties of leaving the West Coast after so many years. John had settled in one of the most beautiful spots I'd ever seen, Dana Point, but it was clear that Middletown was a locus of cherished memories for him.  John's bequest of more than $3 million will endow financial aid packages for Pallein Scholars in perpetuity, so that deserving students can also have access to the kinds of transformative educational experiences that served him so well.
New plans and and old connections. Early July at Wesleyan.
[tags]Wesleyan Summer Session, John Pallein, Wesleyan Alumni, endowments[/tags]