Today I attended the luncheon to acknowledge the winners of the Roger Maynard Scholar-Athlete Award. Beth Kenworthy (Soccer – Neuroscience & Behavior), Clare Smith (Lacrosse – Science in Society), Jory Kahan (Soccer – Neuroscience & Behavior), and Keisuke Yamashita (Soccer — Math/Economics) were this year's winners. Their stellar academic work and extraordinary athletic performance were described by their coaches and academic advisors. Congratulations to these wonderful Wes students and their families!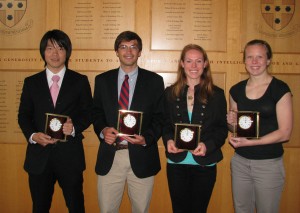 This weekend I'm sorry to miss The Mystery of Irma Veep, directed by Professor Cláudia Tatinge Nascimento. The comedy is part of actor Mark McCloughan's senior thesis, and I've heard great things about it. The show is in the Patricelli '92 Theater. Speaking of theses, I know that many will be burning the midnight oil over the weekend. Good luck to you, as well as to those giving recitals (like Vicki Cheng, who will be singing German Lieder and Jazz Saturday afternoon in Russell House).
Staying with the theme of recognition and acknowledgment, Kari and I will join in the celebration of the wedding of my esteemed assistant, Joan Adams, to her long-time partner Mary Rustico. Joan has been part of the Wesleyan family for years, and we are delighted to join with her and Mary as they make their vows (and dance up a storm!).
[tags]Roger Maynard Scholar-Athlete Award, Clare Smith, Beth Kenworthy, Jory Kahan, Keisuke Yamashita, Mark McCloughan, Vicki Cheng, Joan Adams, Mary Rustico, senior theses, The Mystery of Irma Veep, German Lieder[/tags]