One of the great resources on the campus is surely the Ogden and Mary Louise Reid Cinema Archives. Although the fame of our undergraduate film major is well known to the Wes family, only those with a really serious interest in cinema scholarship may know about the treasures right here on campus.
The Cinema Archives are the home for some stellar collections, and I can start by mentioning three major American directors. Frank Capra, Elia Kazan and Martin Scorsese have deposited archives here, and scholars from around the world come to Middletown to consult them. Head Archivist Joan Miller recently told me about some of the work going on in the Reid Archives.
This year marked the Centenary of the birth of Elia Kazan, and works by several researchers who came to the Archives will be published. Knopf will bring out a collection of Selected Letters, and James T. Fisher's new interpretation of On the Waterfront will be published by Cornell University Press. Our own faculty member Lisa Dombrowski has edited a volume on Kazan that will be released by Wesleyan University Press in a few months.
Frank Capra's Collection is a key part of Wesleyan's archive. Recently, filmmaker Chip Hackler, another visitor to the Archives, put together a film about Capra's anxious reaction to the success of his great comedy, It Happened One Night. Researchers interested in television in the 1950s have been working through the Omnibus Collection. Anna McCarthy's new book on media and citizenship, which draws on this collection, will be published this year by the Free Press. Biographical studies of Scorsese have been started here in Middletown, as have reconsiderations of multi-talented director and artist John Waters.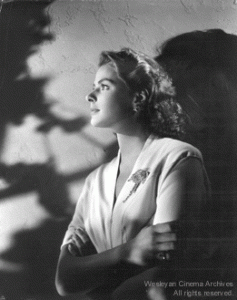 Finally, I should mention the Ingrid Bergman/Roberto Rossellini collection, which has continued to inspire research (and more than a little awe). Filmmakers and biographers visit Wes to consult the extensive paper and photographic archive. If they are lucky, they may even get an opportunity to visit with Jeanine Basinger, who has carefully stewarded our donors and added another jewel to Wesleyan's crown.
[tags]Ogden and Mary Louise Reid Cinema Archives, Frank Capra, Elia Kazan, Martin Scorsese, Lisa Dombrowski, On the Waterfront, It Happened One Night, Ingrid Bergman/Roberto Rossellini Collection[/tags]