Before heading off for some summer vacation, I spent the early part of this week in Washington, D.C.. The American Association of Colleges and Universities was hosting a gathering of presidents to discuss the impact of liberal learning on participation in the political sphere. This is a group devoted to the liberal arts experience, and led by President Carol Schneider AAC&U has presented very compelling information showing the public and private importance of the broad-based, participatory education offered at institutions like ours. Since I have been writing about these issues on the Huffington Post and elsewhere, I was glad to touch base with colleagues eager to make the case for liberal learning.
Since my stay in steamy DC was brief, I only had an opportunity to touch base with a few members of the Wes family doing interesting things in our nation's capitol. We have alumni working in various sectors of government, but during this trip I met with a new Wesleyan parent, Mark Tercek, who is running The Nature Conservancy. TNC is one of the great international environmental organizations, and we talked about ways that this group might work together with our new College of the Environment. Mark was excited to hear about our plans for this interdisciplinary program, and I am confident we will find ways to make common cause. I also met with Dan deVise '89, an education writer for the Washington Post. Dan and his wife Sophie '88 met at Wes, and they have been pursuing journalism pretty much since graduation. I also had the chance meet with Col. Dunbar Gram and other members of the board of the James M. Johnson Trust. This foundation has generously supported Wesleyan's financial aid program for many years, and I was delighted to report on our efforts to maintain need blind admissions in the face of all the economic pressures that challenge us.
I had interesting conversations about economic pressure, politics and education with our star Congresswoman, Rosa DeLauro. Rosa has been an energetic ally for educators for many years, and she continues to fight the good fight. I was so happy to see that she has a couple of Wes interns in her office this summer. Before returning home, Carol Scully and I had a productive meeting with a program officer from the National Endowment for the Humanities. Some say that the humanities are declining or are under siege, but I was pleased to share information on some of the real innovations going on at the Wes campus, especially at the Center for the Humanities.
During our time away Kari and I hope to finish a few writing projects, hear some great music and spend as much time outdoors as possible. That way we'll be ready to greet the class of 2014 at the end of the summer!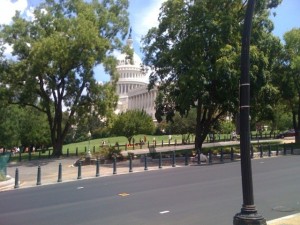 [tags]American Association of Colleges and Universities, liberal arts education, Huffington Post, Mark Tercek, The Nature Conservancy, Dan deVise '89, Congresswoman Rosa DeLauro, Col. Dunbar Gram[/tags]