After an extended time away from Middletown, I always enjoy coming back to see the changes to various parts of campus. This summer there are many, from the sad dismantling and recycling of MoCon to the freshly painted dome of the historic Van Vleck observatory that shines anew atop Foss Hill.
We continue to make steady progress on renovating our science facilities. New fire alarms and sprinklers were put into Hall-Atwater and Shanklin; new ceilings and energy efficient lighting are being installed in the Hall-Atwater corridors; three Chemistry teaching labs are almost unrecognizable after being newly outfitted; and various improvements to other labs will support their high levels of research.
We are finishing a major project at the CFA Crowell Concert Hall. A handicap ramp has been added to the main entrance, and a new elevator being installed inside a former stairwell is going to provide easy accessibility to all levels of the Concert Hall.
Housing renovations accommodate more than 40 new beds for undergraduates.  Most notably, 156 High Street has a brand new suite of 10 beds on the main floor including handicap accessible restrooms and card access for everyone at the main entrance. 109 Cross Street and the former Community Service Office at 162 Church Street have been transformed into senior housing. The Womanist House is relocating to 44 Brainard Avenue, the German Haus is moving to a newly renovated 65 Lawn Avenue, and 260 Pine Street has been converted into a 6-bedroom house for seniors.
Energy conservation projects continue to be implemented across campus.  Residence halls have been furnished with a new energy metering and monitoring system. The new system will allow the expansion of the student run Do-It-In-the-Dark program which has been so successful in reducing energy consumption in student houses. Monitors located in residence halls will display real time data on energy consumption.
Several programs moved this summer to spaces better suited to their needs. The College of the Environment has moved to 284 High Street (formerly GLSP). The Graduate Liberal Studies Program is now at 74 Wyllys Avenue (formerly the Investment Office), right next door to the Admission Office. The Investment Office has relocated to the 4th floor of North College alongside the Treasurer and Finance and Administration offices, and some staff from Finance and Administration are moving to 287 High Street (formerly the Feminist, Gender, and Sexuality Studies building).
The Physical Plant staff has been working hard and productively all summer long. You'll see the happy results when you come back to campus.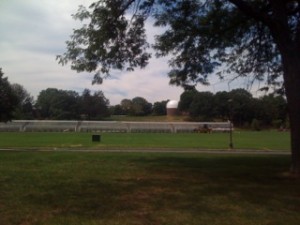 [tags]renovations, science facilities, CFA Crowell Concert Hall, College of the Environment, GLSP, The Investment Office, Finance and Administration[/tags]