Last night I attended a terrific event in New York City with a large group of alumni working in the digital media sphere. We gathered at ZelnickMedia, and Strauss Zelnick '79, Jim Friedlich '79 and Andrew Vogel '95 were great hosts to the more than 100 entrepreneurs. John Borthwick '87 and Andy Weissman '88 from Betaworks were helping with the hosting duties, and I learned about their entrepreneur-in-residence program. Now that's something we could use at Wes! Imagine how many good ideas are bubbling up on campus, and how an enterprise builder might tease them out into some sustainable forms…
It was terrific to feel the energy of this crowd of inventive, ambitious alumni. I ran into my old friend Jane Polin '80 and met Julie Burstein'80, whose recent book, Spark: How Creativity Works, is getting a lot of attention. There were folks from the venture capital field, like Stuart Ellman '88, and Brad Burnham '77, who were pretty much surrounded by eager alums with new ideas. Another giant in that field, Fred Wilson P'13, wrote his blog this morning about the confluence of science and art, and I can't help but think he was inspired by some of the people he saw at the Wes reception. Recent grads (like Dina Kaplan '93) were there as well as current student interns (like Benjamin Resnick '13) and some senior media people, too, like Bill Blakemore '65. Jake Levine '08, as the lead volunteer heading the Wesleyan Digital Media effort, helped bring this all together.
I spoke briefly about the ways in which Wesleyan has been a pioneer in liberal education for more than 50 years. While other schools are playing defense or fighting over preserving turf boundaries, Wesleyan remains dedicated to expanding the boundaries of liberal learning. We believe that the liberal arts are INCREASINGLY relevant in an age of rapid technological transformation. We embrace the challenges of creating new networks of learning and positive social change. It was clear to me again last night in New York that our alumni are building on their Wesleyan education to shape the culture and economy of the future.
Go Wes!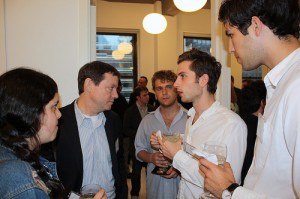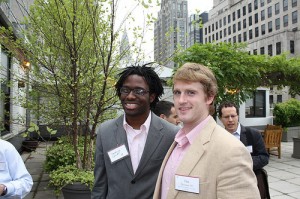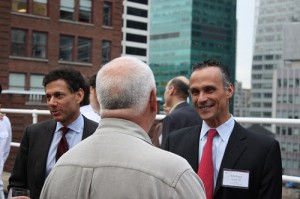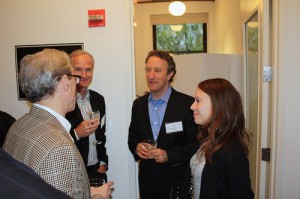 Photos courtesy of Jake Levine '08