It's the season for senior thesis writers to be burning the midnight oil. In a couple of weeks these projects will be handed in to advisors and multiple readers, and then it will be the faculty burning the oil as we carefully read through the arguments, stories, proofs, and poems on which  students have been working for the last several months.
Many students preparing recitals, plays and exhibitions have already had to complete their work so that it can be scheduled for performance and display. Yesterday I checked out the student senior exhibitions in the Zilkha Gallery, and boy was I impressed! My first impression was of Sienna Perro's subtle yet disturbing photographs of funeral homes. Her sober approach to the material only heightened the emotional power of the work. I had a chance to chat with Kuan-lin Huang about his wonderful installation. Kuan-lin used sculpture, sound and projected images to call to mind the tension between individuality and submergence in the group. I didn't meet the other artists, but I was mightily impressed by the architectural installation (Gil Sunshine), the magically realist painting of family correspondences (Elizabeth Chabot), and the minimalist cartography installation (Johnny Tan). I think the work will be up for a short part of Sunday afternoon (April 1). The next wave of senior exhibitions opens on Tuesday.
My afternoon on Saturday was enriched by a marvelous concert that was part of Sam Long's senior thesis in music and environmental studies. Sam's band, The Honey and the Sting, played original music composed in response to the Connecticut River Valley.
The music was gorgeous, and the lyrics were smart, funny and evocative. Jess Best 12, Mel Hsu '13, Howe Pearson '12 and Gemma Smith '12 gave heartfelt and compelling performances. Although I know the band members had originally wanted to perform outside (with bike-generator powered amplification), the vibe in the Chapel was just right.
Some mighty vibes these days in Memorial Chapel. Last week's Think Big lectures featuring an all-star faculty line-up was exciting, provocative and fun. Joshua Levine '12 and his comrades Hannah Vogel '13, Jack Hoskins '12, Max Nussenbaum '12 and Maxwell Hellmann '13 did a fabulous job organizing the event.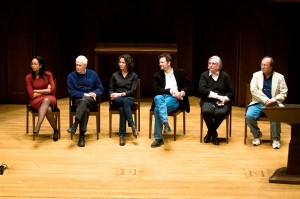 Don't they look like they are thinking BIG? Pictured here are Leah Wright, Rich Adelstein, Mary-Jane Rubenstein, Matt Kurtz, Jeanine Basinger and John Finn. In their 9 minute talks, the profs talked about what engages them most as researchers and teachers. I had a great time moderating the event. There will be more pics and videos posted soon.
Taiko drumming seems to be happening at various places on campus this weekend. And last night I also got to hear a staggering performance by Dylan Griffin '12 of Schubert's Impromptus and Mussorgsky's Pictures at an Exhibition. Listening to Dylan play, I was so happy to be at a university at which student performance is so seriously accomplished and so highly valued!