Wandering around campus on this first official day of summer, I see signs of the increased use of our facilities that we have been encouraging these last few years. The Summer Session, now in its third year, has continued to grow, and the students I've spoken with are enjoying the small classes and the intense focus. The double-course on filmmaking and film studies seems to be going really well, and I suspect we will be adding resources in this area in the future. Speaking of film, our summer series of free films linked to our archive will begin in a couple of weeks. This year the focus is on some of Paul Newman's greatest roles, and the line-up (with introductions by Mark Longenecker) is impressive. The series begins on Tuesday, July 10 at 7:30 with Cool Hand Luke, and it continues each Tuesday through July.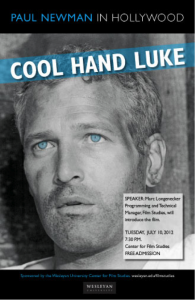 Heading over to the Exley science center, I am likely to bump into some of the scores of students working in labs. For many years our undergraduates have been able to participate in high-level research and get financial support in the summers for doing so. Much of this support has come from the Hughes Foundation, and we recently learned that we will have to raise our own funds to continue this work in the future. I am working closely with our science faculty and trustees to raise the funds to support mentored summer research. Research support for students is a crucial complement to our financial aid program (about which I am posting more information on the Wesleyan 2020 site).

On the left above is Claire Palmer '14, and Lisle Winston '14 and grad student Upasna Sharma are on the right. They were busy working in Scott Holmes' molecular biology lab when I interrupted them. I also spoke with some students doing exciting work on protein expression and on bacteria from Death Valley and from Slovenia (I didn't know bacteria had "zip codes").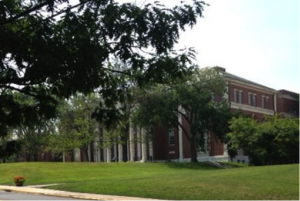 I stop in to Olin Library from time to time to pick up books that might prove useful for my own research regarding the development of liberal education in the United States. Olin in summer is an oasis of serenity, as it is (relatively speaking) throughout the school year. Wandering around the stacks, I always find more books than I came looking for. Now all I need to do is find the time to read them! When I leave campus for a break, I will continue my book project on the intellectual history of liberal education in America. The tension between learning for its own sake and learning for practical goals runs like a red thread through the history of American higher education. Rather than try to dissolve that tension, I believe we should cultivate it to generate deeper scholarship and more productive enterprises. The mistake is to think we must choose between liberal learning and an expansive pragmatism.
Summertime is here with intensity today, but the livin' ain't easy. The work continues in classrooms, labs, offices and studios.