This morning the New York Times ran an opinion piece I wrote on education as freedom. Earlier in the summer I'd posted on Jane Addams, and on the debate between Booker T. Washington and W.E.B. Du Bois. All this comes from the book I am writing, Why Liberal Education Matters. I believe more strongly than ever in pragmatic liberal learning, and it's good to have a chance to kick these ideas around in the public domain.
This year Wesleyan continues the "Creative Campus" initiative we got underway some years ago now. We believe that our form of education stimulates innovation and develops habits of mind that lead to regular participation in (and appreciation for) creative pursuits. Pam Tatge, director of the CFA, and Provost Rob Rosenthal are in New York today to discuss how our work in this area might be helpful to other colleges and universities.
I'm particularly excited about one of this year's Creative Campus initiatives, the Music and Public Life program chaired by Mark Slobin. There are many great events, and tomorrow (September 7) we start off with The Mash — lots of campus bands performing with time for open, spontaneous performance. It all kicks off at noon in the Huss Courtyard (behind the Usdan University Center) with The Mattabesset String Collective — Barry Chernoff, Marc Eisner, Rebecca McCallum, Gil Skillman and Kevin Wiliarty.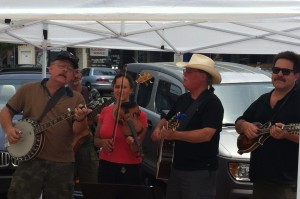 Marc is away from campus presenting a paper, and I will have the great pleasure of sitting in with the group. They are actually going to let me play some guitar, keyboards, and harmonica. I even get to sing a little Dylan!  Later in the afternoon there will be performances by great student bands in front of Olin, WestCo, and… I hear Bear Hands is playing at Foss Hill late in the afternoon. It should be quite a day!!!