UPDATE: Monday morning, February 11
Despite the heroic efforts of our Physical Plant and Stonehedge, we have decided to cancel classes for the day. I am hopeful that enough classroom buildings will be fully accessible so that we can get underway tomorrow (Tuesday). We will make another announcement at around 6 pm this evening.  
To the Wesleyan Community:
Wesleyan is closed Monday, and classes will not be held this afternoon. Parking on campus remains limited, and a number of buildings are not yet accessible. Only essential personnel should report to work today. We are hopeful that classes will be held tomorrow, but that depends on how much snow removal gets done today. Our crews are working tirelessly, and we are very grateful for their dedication and good work. We will provide an update this evening around 6 pm.
Heavy equipment is in use, so students should continue to exercise considerable caution outdoors. Call Public Safety for help with storm-related matters, (860) 685-2345. For emergencies, call (860) 685-3333.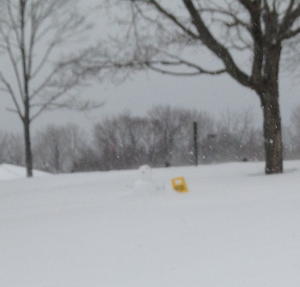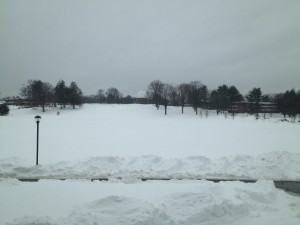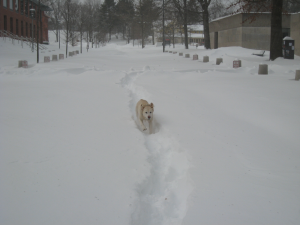 We have been meeting to ensure that we are as prepared as possible for the heavy snow expected this evening. As I walked through the dining halls at lunchtime today at Usdan, spirits were high, and many were preparing to head to Foss Hill for some sledding. Winter in New England…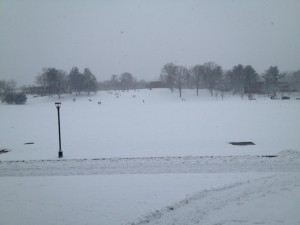 Foss Hill as seen from my office in South College
More than two feet of snow fell overnight, and it was a quiet, beautiful day when Kari and I got out of the house with Mathilde this morning. The path around Usdan was cleared already, and we talked with a Bon Appetit employee who walked miles (!!) through the snow to come into work. I am so grateful to the folks from Stonehedge Landscaping, Bon Appetit, and from our Public Safety and Physical Plant crews who are working through the storm to keep us safe and fed.
Here's the path to my office at South College: