I'm writing this from Los Angeles, where last night we gathered with more than 200 Wesleyans to celebrate film studies. Each year Rick Nicita '67 hosts this great party on President's Day at the spectacular offices of the Creative Artists Agency. We had much to celebrate this year. I announced that Wesleyan was creating the College of Film and the Moving Image. The college integrates the Film Studies Department, the Cinema Archives, the Center for Film Studies, and the Wesleyan Film Series in ways that will allow Wesleyan to accelerate the success of an already dynamic, high-impact program.
Mike Fries '85 was at the event to announce his gift to the endowment to honor his father, television producer Chuck Fries. These funds (with help from the National Endowment for the Humanities) have allowed us to hire Andrea McCarty for a new curatorial position at the Cinema Archives. Chuck and his wife Ava joined Corwin-Fuller Professor of Film Studies, founder and curator of the Wesleyan Cinema Archives, Jeanine Basinger, Rick, Mike and me in marking this occasion.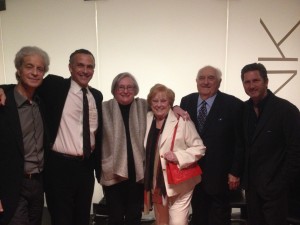 Jeanine arrived at the events after a hard day of book signing.  Her I Do and I Don't: A History of Marriage in the Movies is selling like hotcakes and receiving rave reviews. We met up with Joss Whedon, the 2013 commencement speaker, to take a THIS IS WHY photo.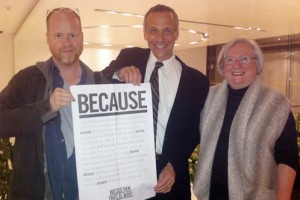 This year is particularly exciting for the Wes Film Empire, with Beasts of the Southern Wild nominated for the Best Picture Oscar (among others). At the reception I met up with some of the producers of the film, and we had a vigorous conversation about recent changes to our financial aid programs. (I also dropped to my knees to pay homage to their extraordinary movie.)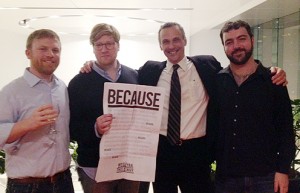 Hey, it's Wesleyan. We aren't supposed to agree on everything. But we did agree that raising more money for financial aid should be an institutional priority, and that's what the fundraising campaign is all about.
Financial Aid Now More than Ever. THIS IS WHY.