This past weekend the Trustees were on campus for our regular winter meeting. This year's gathering was punctuated by the news that we were launching our fundraising campaign, during which we will aim to raise 400 million dollars. I made a formal announcement of this at a dinner to celebrate Wesleyan volunteers on Friday night, and I was especially excited to share the news that we had already received more than 283 million dollars in gifts and pledges toward our goal. That means we have already raised more money in this effort than in any previous campaign, and I should add that we have already put more than twice as much money into the endowment than we have ever been able to do in a comparable period in the past.
I reflected on the early days of our planning for this campaign, which took place in the spring of 2008. The US economy was trembling on the brink of disaster, and yet we were talking about an ambitious effort to raise hundreds of millions of dollars. I was a brand new president, and I have to admit that I was filled with trepidation. I'll always remember that John Usdan '80, P'15, now our campaign chair, leaned over to me and said with a smile that it was just the perfect time to plan to raise money. When the economy began to improve again, he assured me, we would be in the perfect position!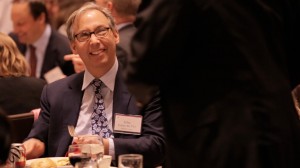 We have three priorities in our fundraising efforts. The first is financial aid. We intend to at least double the endowment dollars dedicated to scholarships, raising more than $200 million for financial aid. The second is support for academic programs, with $140 million dedicated to support teaching and research. The third goal will increase the impact of our work beyond the campus, with $60 million to support student efforts to translate what they've learned at Wesleyan into engagement with the world. You can read more about these goals and make a gift HERE.
It was fitting that we made this announcement in front of a group of university volunteers. Megan Norris '83, P'17, who has served this university so well as a trustee and now heads the Alumni Association, joined Board Chair Joshua Boger '73, P'06, P'09 in speaking about  the powerful role that graduates can play in raising more money for financial aid.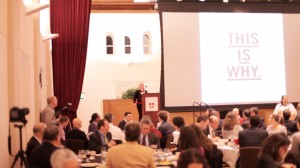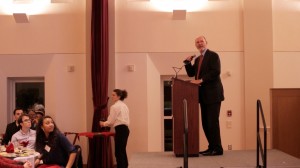 The evening was punctuated by dances from the Wes Precision Dance Troupe.   They even got some of senior staff up on the floor to celebrate.
[youtube]http://www.youtube.com/watch?v=7g_qSBP-mQM[/youtube]
During the next few years the administration is not going to tell you why we think you should support Wesleyan, but we are going to ask you why you think Wes is a cause worth fighting for. You'll tell us about opportunities that opened up for you, about friendships that have changed your lives, about teaching that has changed the way you see the world…about why we must continue to work so that Wesleyan can live up to its promise to deliver the best in progressive liberal arts education. We will record your stories and create an archive of your photos. And when you tell us why you support Wesleyan, we will agree: THIS IS WHY.