Kari received the sad news recently that Franklin Reeve, emeritus professor in the College of Letters, had passed away. He had taught at Wesleyan for more than 40 years, and his students and colleagues recognized his generosity, his wit, and his wide-ranging intellect. I didn't study with Frank, but many of my friends did, and I experienced him as a formidable presence on campus. No, that's not quite right. He had stature, but he also had a ready smile and an easy openness to which so many of my peers responded. A few years ago, Frank came back to campus with a jazz combo for an evening of music and poetry. He still had that openness, along with his lifelong joy in the careful use of language and in the vitality of improvisation.
Paul Schwaber, Frank's colleague for many years in the COL has written a tribute to his friend. It's my pleasure to post it below.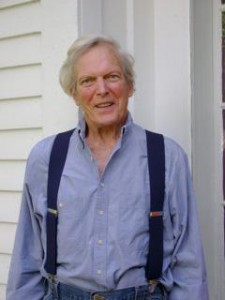 I remember Frank Reeve as a tall, extremely handsome man.  He smiled ruefully and spoke very rapidly, as if barely able to control his rush of thought or  questions.  He joined COL after some time away from Wesleyan, where he'd initially taught Russian.  Widely learned, he was polylingual, witty, keen with pun and irony.  He wrote poetry, drama, fiction.  He translated.  He seemed never to stop writing.    He was competitive and judgmental, but only with the best.  To a young colleague he was also kind.  For example, I asked him early on to read a review I'd not yet submitted on a new book by Robert Lowell.  Frank made several helpful suggestions  about phrasing but also telegraphed dubiety about my choice of poets.  In COL's jointly taught colloquia, he was energizing, a playful presence, exciting to teach with, inspiring by example to the students.  I've known him to be sharply critical but never nasty, and he had no trouble communicating his love of language and linguistic art.  Most of all he was both literary and worldly.  There were few things he seemed not to know.  COL applied for and won an NEH grant for courses on Science as a Humanistic Discipline, for which Frank taught a course called "How Things Work."
He also noted when things didn't work.  My friend Bill Firshein and I volunteered to join Ted Hoey sail his new boat on the Connecticut River.  Ted was a rookie, and Bill and I had never sailed.  We learned that "Hard-a-lee" meant bend down quickly, as the main sail would swing by.  Yet soon we three were in the water, the boat on its side, while we tried to roll it upright, laughing hard, as Bill, the biologist, shouted "Don't swallow the water! It's polluted!"  Suddenly we were aware of a boat circling round us protectively.  And there was Frank, with a boatload of wide-eyed children, he taller even than usual, with an amused—or was it pitying?—look on his face.   He was an expert sailor, a committed teacher of literature and writing, with a lively and enlivening mind.  He taught a seminar on Melville and Dostoevsky, two giants rarely studied in depth together.  Yet it was much in demand, each time he offered it.  For several years too he taught a first-year Great Books course, lecture size and ever-popular, in which apparently he was able to get the students to talk, and to talk with one another.  It became a major source of gifted students to the COL major as well. 
In his later years, he suffered crippling arthritis, which bent this exceptional man over but did not crush his spirit.  We mourn his death and praise him, a genuine and unique man of letters.