Yesterday I visited the wonderful Alumni Show II at the Zilkha Gallery in the Center for the Arts. Curated by John Ravenal '81 P'15, the exhibition offers a compelling look at the wide-ranging talents of Wes grads working in a variety of media. John began with over 150 artists and eventually pared the list back to 17 alumni whose work is displayed now on campus. From John Hatleberg's '79 Hope Diamond replica to Stephanie Calvert's '08 lush paintings, the art displayed at Zilkha delights, provokes…makes you pay attention and makes you think. It's very cool.
At the Mansfield Freeman Center for East Asian Studies Tom Zetterstrom's photographs from China are now on display. These pictures from 1981 promise to remind us of a key moment in China's recent history. Next week the Davison Art Gallery will open an exhibition exploring seriality in American printmaking. The interplay of repetition and variation will figure prominently in the exhibition opening on September 19th.
It's the 40th anniversary of the Center for the Arts this year, and there will be plenty of activities throughout the year. We began with the musical Mash, and plenty of groups were really shredding it on stages across the campus. (I learned this word from a first-year student at the campus BB-Q.)  Here's a pic from the Smokin Lillies set: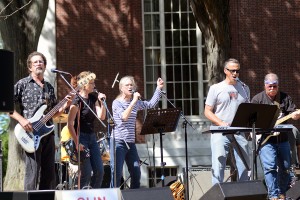 Make art, make music, make Wesleyan as creative a campus as we possibly can!