The baseball team just returned to campus after having a great run in the NCAA tournament. The NESCAC champs had some thrilling victories, and at times it seemed like every position player was going to take a turn on the pitcher's mound. The game against Susquehanna was particularly thrilling, with the Cardinals coming back to win with 2 outs in the ninth. There were many standout performances you can read about here. Mark Woodworth and the guys did us proud, making this season one of the best in Cardinal history.
Speaking of Cardinal history, women's crew is busy setting it. Since the end of the semester, the team has earned an invitation to the NCAA championships at the end of the month, after a great job in the regional races.  The fifth-place effort in the ECAC regatta was the highest finish by Wesleyan since last qualifying for Nationals in 2001. Clare Doyle '14 and Kayla Could '14 were named all-NESCAC rowers, and you can read more about the team's accomplishments here. In men's crew, Nick Petrillo '14, Keegan Dufty '14 and Peter Martin '14 were named all-NESCAC rowers.
Finally, Sierra (If I had a Hammer) Livious '14 has been on a tear through the competitions this spring. She has piled up the points, set Wesleyan records and is off to the NCAA tournament. Go Sierra!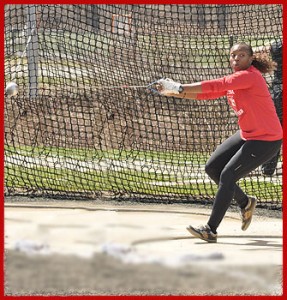 THIS IS WHY.