Had the great pleasure today to hear Sam Friedman's '13 concert, "Just Breathe" at Russell House. Sam was joined by Howe Pearson '12, Derek Frank '15, Zack Rosen '11 and vocalist Jackie Soro '14 (Sam Wagner, who hung out here without picking up a diploma, joined on drums). From blues to more experimental polyrhythms, Sam led a magical hour of music.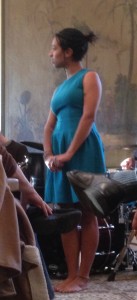 I first met Sam when he played piano at our holiday parties in the President's House. His astonishing senior recital was a display of harmonica virtuosity and musical imagination. These were on display today. His teacher (and wonderful jazz musician) Noah Baerman wrote, "Wesleyan isn't thought of as a place to get an undergraduate education that directly relates to a performance career in music. However, the resources are vast for someone with the right mix of discipline and broad-mindedness. The poster-boy for this in recent years is Sam Friedman, a multi-instrumentalist and multi-genre powerhouse."
From now until the end of the semester there will be several opportunities to hear and watch amazing performances. I can't write about most of them, but I am so glad they are happening.
THIS IS WHY.