As we get to the end of the semester, I find myself revisiting some of its highlights. One such moment was when coaches Mark Woodworth and Joe Reilly visited my office just before Homecoming. They were coming by to present me with NESCAC Championship Rings from the baseball team and men's basketball team. The record of excellence for both teams is most impressive. Baseball has become a conference powerhouse, and last year the basketball team had an extraordinary run through the tournament to emerge with our first NESCAC title in the sport.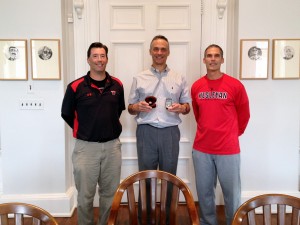 At Homecoming we had the occasion to celebrate other NESCAC champions, including the amazing tennis star, Eudice Chong '18, who went on to a national championship. These student athletes do us proud!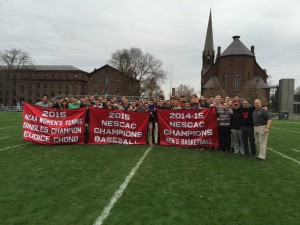 On campus, we all know that athletics isn't confined to those who win championships or even those who suit up for varsity sports. Every day you can find students, faculty and staff on the ice, tracks, bikes, courts, fields, sailboats, horses….and (speaking for myself) stairmasters! We cheer one another on, and, sometimes, go beyond what we had imagined we could accomplish.
Even our varsity athletes get a break after finals, but they will be back in competition weeks before the new semester begins. Let's cheer them on!