At the end of the week I was privileged to hear an established scholar and an undergraduate full of enormous promise. The distinguished sociologist Richard Madsen was on campus to help the Freeman Center for East Asian Studies celebrate its 33rd anniversary. He gave an interesting lecture on contemporary religious movements in China, with special consideration given to their connection to economic growth and social mobility. The Freeman Center was packed with students and faculty. The next day I went to Hartford to hear Wesleyan senior Noah Hutton talk about a contemporary art exhibition he and some other students of John Paoletti's had curated at the Wadsworth Atheneum. Noah gave a lucid and thoughtful description of some very challenging works. We'd met before because he is also a gifted jazz musician who plays at different Wes events.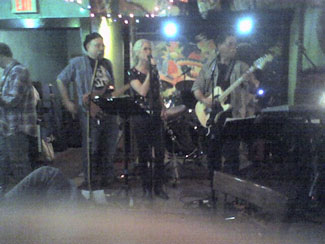 This has been an exceptionally busy weekend on the Wesleyan campus. Friday night started off with a graduate students' retreat, at which I just stopped by to escort one of the main speakers, Joshua Boger '73 (a Wesleyan trustee, scientist and CEO of Vertex Pharmaceuticals). Later that night Kari and I went to hear the Wesleyan-based geezer rock band, BUSTED ROSES, which was playing down at La Boca on Main Street. Dean Louise Brown was in great voice, and the rest of the band was cookin'!!
After a week sitting behind desks, I decided to spend as much of Saturday as possible out of doors. This meant that I would miss Social Justice Day, which the WSA had organized for Saturday. The program looked strong, and I hope those who chose to attend found it worthwhile. Out on the fields there were plenty of athletic contests at which one could cheer on the red and black. The men's baseball team split an exciting double-header against Amherst. After watching Wes mount a great comeback rally in game one, I saw the mighty men's lacrosse team have a wild second half against a tough Bowdoin squad. It became a rout. Sophie and I headed up to watch the Cardinal women overwhelm the softball team from Hamilton. It was cold out there on Long Lane, but watching softball made me feel that spring must be on the way.
While I was enjoying the sunshine and cheering on the home teams, a group of scholars were gathered together to consider multi-sensory art experiences and their history. Smith College and Wesleyan organized this art history conference with some leading scholars from around the country. I was lucky enough at the end of the day to hear Professor Katherine Kuenzli discuss her exhibition on Wagner and the visual arts, currently on display at the Davison Art Center. It's a fine example of how our print collection can support and enhance innovative scholarship.
Last night Kari and I had a delightful dinner with some colleagues and Hayden White, who had been a teacher of mine some thirty years ago here at Wesleyan. Hayden is the most important philosopher of history in the United States, and one of the most original thinkers in the humanities that I have ever encountered. I was so pleased to be able to tell my former teacher that the university he remembered as a hotbed of new ideas and deep community was still inspiring great work in a context that is challenging yet deeply humane.
This week I have office hours Monday at 4 p.m. Students who don't want to wait should call extension 3500 to sign up for a time.
[tags]sociology, art, baseball, lacrosse, softball, Ricard Wagner, Hayden White, philosophy[/tags]