It's July 14th, the perfect time to celebrate Andrew Curran, Wesleyan's most recently honored Chevalier dans l'Ordre des Palmes Académique. The Order of Academic Palms was founded in 1808 by Napoleon Bonaparte to award  devotion and accomplishment in the areas of teaching, scholarship and research. Andy is the William Armstrong Professor of the Humanities, and a valued member of the Romance Languages and Literature Department. He also works in the history of science and cultural history more generally.
Below are the remarks delivered at the French Embassy earlier this year when Andy was honored. Happy Bastille Day!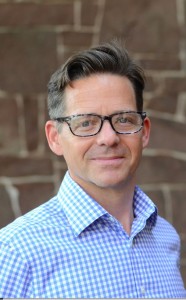 I believe that when we confer on you an award that recognizes and celebrates knowledge, the significance is twofold. There is, on one hand, your status as an eminent Professor of French Literature at Wesleyan University, where you have been the Dean of Arts and Humanities as well. With a long list of awards and fellowships, ranging from Mellon Foundation grants to the James Clifford Prize, your remarkable credentials would certainly be enough to merit the Palmes Académiques honor.

But we must also consider, on the other hand, the frequent subject of your study.

You have spent much of your academic career researching and analyzing one of the greatest champions of knowledge and education. This is, of course, Denis Diderot. The founder of the modern encyclopedia, Diderot strove to make comprehensive knowledge accessible to the everyman. He believed that education was essential for distinguishing human from animal, and that knowledge was key for liberating man from the narratives imposed by authority.  Even today, this message is enormously meaningful.

Your study of Diderot is vast, uncovering his rich philosophy and his prolific writings. Through your work, Diderot is shown to be a distinctive voice in an age of many great thinkers. You highlight Diderot's secularism and challenge to the political establishment, which predated later phenomenon in French society.

You publicly advocated for Diderot's legacy in 2013 when you voiced your support for his remains to be relocated to the Pantheon. In an Op-Ed for the New York Times, you defended the singularity of Diderot's philosophy, writing that, "More so than the deists Voltaire and Rousseau, Diderot embodied the most progressive wing of Enlightenment thought, a position that stemmed from his belief that skepticism in all matters was 'the first step toward truth.' " Your engagement with Diderot continues into the present: you currently sit on the review board of the academic journal Diderot Studies, and you have a forthcoming book entitled Diderot: The Art of Thinking Freely.

As much as you admire the Enlightenment, you are not blind to the problematic and contradictory theories sometimes espoused by the philosophes. You have written several papers and a book on the concept of "monstrosity" in Diderot's world, and its physical, moral and even literary forms. Indeed, the "otherness" and imperfection of monstrosity creates many questions for the Enlightenment, because it raises the issue of the laws of nature, and how these laws can be reconciled with things that appear to violate them. In your study, you show how this contrast fits into Diderot's materialist vision, and the problems it raises.

The categories and classifications in Diderot's encyclopedia, and the subject of "otherness," have also led you to an unorthodox yet fascinating topic: how Enlightenment thinkers conceived of "race". You highlight the fascination with Africa during the Enlightenment, and the fixation on what was called "blackness." Through your research, we can understand the results of this interest, including the violent history of racial classification.

You uncover the very impetus behind the interest in racial difference. Through comprehensive and critical study, you reveal the intense racial biases among our progressive philosophes, caught between a belief in the universal rights for all men and the perceived inferiority of some men compared to others. Your work sheds light on the contradictory ideas on race that became widespread even among the greatest intellectuals, and for some, created a justification for slavery. In a world still grappling with race relations and its colonial legacy, your work has been justly noted for its relevance. In 2013, your book The Anatomy of Blackness won a Choice Outstanding Book Award, and received the recognition of the Schomburg Center for Research in Black Culture in 2012.

As a professor, you have created opportunities for students to pursue their own cutting-edge research. On two occasions, you served as resident director of the Vassar-Wesleyan Program in Paris, an immersive program that helps students encounter French academic institutions as well as French life. At Wesleyan, you have taught classes on everything from the French nineteenth-century novel to Diderot to exoticism, and you do not hesitate to point out overlaps between the different fields.

Diderot once said, "Only passions, great passions, can elevate the soul to great things." Dr. Curran, your passion for knowledge and discovery has led you to complex and unprecedented work on Diderot and beyond. It is my honor to present you with this award.

 Andrew Curran, au nom du Gouvernement Français, je vous fais Chevalier dans l'Ordre des Palmes Académique.
UPDATE:
By now, we all know something about the horrific end to Bastille Day in Nice. We have checked in with our Wesleyan students in France, and we share the grief and outrage of those affected by the attack. Along with the compassion for those victimized by these and other atrocities, we must find the will, courage and intelligence to defeat those who would use murder to create terror.