Family Weekend comes early this year, and we anticipate a large crowd of visitors to campus. There will be lots of wonderful events, from art exhibitions featuring photographs and paintings to South Indian music, lectures and athletic contests. You can find plenty more information here.
Parents of new students are often surprised at how quickly their sons and daughters have formed intense friendships — they can sometimes feel like extended families. Whether it's a cohort formed in sports, science labs, art studios or in a rock band… these new relationships can be profound. Some alumni remember their "Greek" experience as most important in this regard, and recently, we've again had searching discussions about the relationships created in these societies. We announced this week that the residential fraternities will have to work over the next three years to become fully co-educational, and we've already had lots of positive feedback concerning that decision. Of course, we've also had some strong pushback from folks who feel that fraternities represent important traditions that should be maintained. Along with the Board, I am hopeful that these traditions can find new forms as the societies welcome women members and women leaders. Sure, it will be different, as these societies are different in many ways from their incarnations in the 50s and 60s. Working together, I am confident that we can retain some of their best features while building new traditions for the future.
I think we may be creating a new tradition of launching Tony Award winning musicals. OK, we are trying. In the Heights author Quiara Alegria Hudes is now a distinguished professor of playwriting at Wes, and the creator and star of the show, Lin-Manuel Miranda '02, was back on campus this week to meet the cast of the production that will be staged this fall. By all accounts, he gave a great talk/performance Tuesday evening. Provost Ruth Weissman, Lin and I documented the evening with a selfie: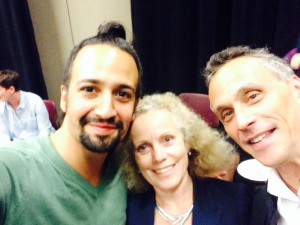 The vibrancy of the art scene at Wesleyan is legendary. In recent years, we've added another tradition to it with The Mash, our music festival on the first Friday of the semester. This year I played a little with some friends, and I was introduced to many Wes bands and individual performers. Here's a twelve minute sampler:
[youtube]https://www.youtube.com/watch?v=a2pLJLkXEKo[/youtube]
There will be plenty of music, friendships and even a little theater this weekend. It should be a great one!