On Tuesday evening I attended the ceremony honoring the cohort of veterans who have been selected to begin their education at Wesleyan in the fall. With this group, we join with the Posse Foundation and Vassar College in expanding educational opportunities for the men and women who have served in the armed forces since 9/11. We plan on accepting groups of ten veterans through this process each year.
The Posse Foundation's philosophy is to provide educational opportunities to students from under-represented groups who support and inspire one another in strong cohorts. The 10 Early Decision students have served in Iraq, Afghanistan and here in the United States. They have this in common: a strong desire to support one another as they pursue a broad, engaged liberal education at Wesleyan. Having already gone through a rigorous selection process, they seemed very much ready to join our campus community. I know they will make important contributions to it as they interact with students, faculty and staff.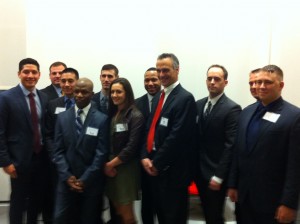 This year we have also decided to increase the number of Questbridge scholars in the class of 2018. Questbridge Scholars add significantly to our diversity as they enliven our classrooms, stages and playing fields. At Wesleyan we don't have unlimited resources for scholarships, but thanks to generous donors at all levels, we can use our scholarships to make a profound difference in the lives of individual students and in the character of our community. I'm very grateful for the contributions we've received that make these and other financial aid initiatives possible at Wesleyan.
This week I will be attending meetings on college access at the White House. I hope to learn about more ways that we can leverage our resources to create new opportunities for low and middle income families.  While we raise money for financial aid endowment, we are already finding ways to offer enhanced scholarships within a sustainable economic model. This will mean keeping our tuition increases in line with inflation, and maintaining financial aid as a fundraising priority. The THIS IS WHY campaign has already raised more than $300 million, the majority of those funds going to the endowment. This will enable the university to become less dependent on tuition, so that we can truly disregard the financial capacity of applicants and meet full demonstrated need without requiring excessive loans.
At the end of the festivities with Posse, our new members of the class of '18 joined me in a boisterous GO WES!! I can hardly wait to welcome them to campus.