WesFest is underway, and over the next days hundreds of visitors will be ambling the paths of Wesleyan, attending stimulating classes, hearing great music, enjoying beautiful spring afternoons on Foss Hill, and trying to pick up the vibe of student culture here at Wesleyan. I remember well the first visits I made to campus. My parents hadn't gone to college, and I found the whole picture of college life here incredibly exciting and more than a little scary. I had attended a big public high school that didn't put a great premium on academics (to put it gently), and I had never encountered the kind of folks who had had a real preparation for college level work and for the subtleties of campus life. I didn't know if I belonged at Wesleyan (or anywhere else like it) for at least the first semester, and I found myself working all the time.
An important percentage of our student body today is part of the first generation of their families to attend college – and/or low-income. The entry of these students into the Wesleyan community often involves translation, culture shock, and a fair amount of confusion. Just to get here, most overcome obstacles far greater than the ones I faced. I respect them so much!  Here to help them acclimate are a number of Wesleyan programs, including out First Gen Task Force comprised of students, staff, and faculty.
Wesleyan has long worked with community based organizations to recruit students who might otherwise not find their way to our university. We have important partnerships with a number of programs, including Questbridge, A Better Chance, Gates Millennial Scholars, and the Posse Foundation, which brings military veterans to campus. One of our long standing partnerships has been with Prep for Prep, an organization that recruits highly talented students and works with them from middle school through graduation from the university.  Just yesterday I received notice that, even though we are a relatively small school, we have been Prep for Prep's largest partner over the years: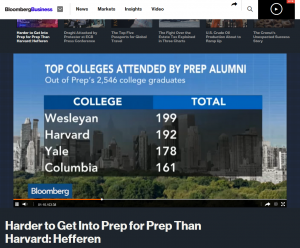 We are proud to offer a great education – one characterized by  "boldness, rigor and practical idealism" – to a remarkable student body, one made all the stronger by the many different paths our students have taken to get here.