As many of you know, the Long Lane Farm has been very successful at selling organic vegetables to our food services vendor, Bon Appetit. This means we are eating local, and we are eating healthy! Furthermore, students are gaining valuable experience in managing a farm and understanding how a small operation can make a big difference. Well, that difference just got bigger!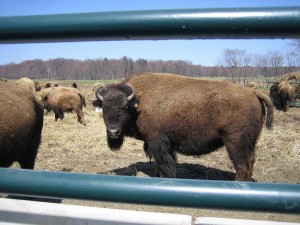 Next year, Wesleyan students will be raising bison right here in Middletown. We tried raising chickens on the farm a few years ago, and I know that we had unhappy results. So, after crowd sourcing an innovation agenda on sustainable edibles, we decided to scale up with animals that are less fragile. This will be meat that comes from local animals raised with care (and organic feed). The herd will benefit from the beautiful meadow just adjacent to the farm…cross country runners will now have something really interesting to gaze at!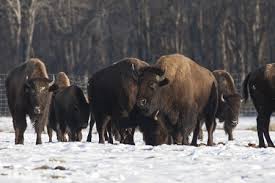 The idea comes to us from the bison farm at Amherst, Massachusetts, where hipsters know that locally curated meat is the answer to the Omnivore's Dilemma.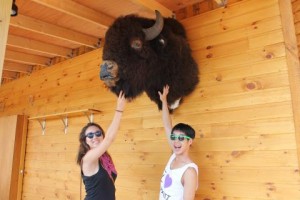 …but don't worry about this being a Trojan bovine. Although we won't try to breed red heifers, we will make sure that our bison love the cardinals. Imagine bringing one of the creatures out at half-time at Homecoming!
GO WES!!